Founded in 2018 by Inria and University of Montpellier researchers, Neurinnov, a neurostimulation implants manufacturer, announces that it has completed a €3 million seed round led by IRDI Capital Investissement, UI Investissement and SOFILARO.
Neurinnov aims to revolutionize the neural stimulation sector by offering a selective nerve stimulation technology. This technology has been validated through several clinical studies carried out with the Camin team at Inria and clinical partners, the last of which was completed in 2020 and was funded by EIT Health. The developed solution allows selective stimulation of nerve fibers through epineural electrodes to obtain the desired functional movement while minimizing unwanted induced movements.
Neurinnov will focus on the industrialization of its medical device, with the launch of the pivotal clinical study in Europe planned for 2024 in collaboration with the Camin team at Inria and clinical partners (Clinique Saint Jean, St Jean de Védas and USSAP Perpignan). Industrial partners have already been identified and an interim study will be conducted as early as next year.
The latest round of fundraising will allow Neurinnov to strengthen its team, finalize the development of its product and carry out the clinical study in preparation for obtaining the CE mark. "Neurinnov's ambition is to become the leading player in the field of disability compensation technologies through neurostimulation. This unique project is also a social project, and in this first phase, it will allow us to offer a solution to people who are at a therapeutic dead end. Later on, we will be able to apply our technology to other clinical indications", says Serge Renaux, President of Neurinnov.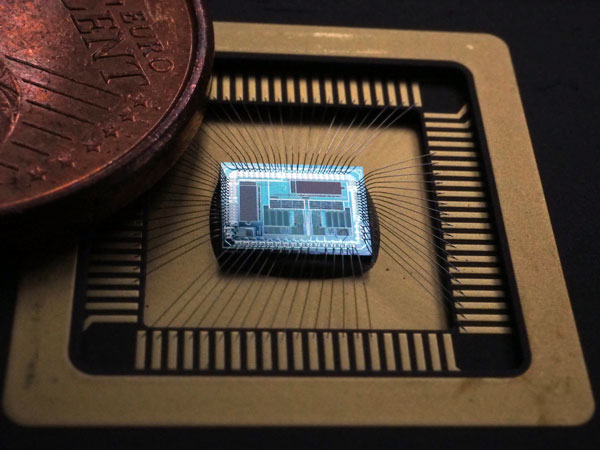 Neurinnov SAFE chip at the heart of the innovation to generate multipolar stimulation. Image: © Inria / L. Jacq.
David Guiraud, Neurinnov Chief Scientific Officer, adds: "Evaluated as part of a project to restore prehension in eligible people with tetraplegia, but more broadly, this technology allows the stimulation of a sub-set of axons within a nerve in order to obtain the desired therapeutic effect while minimizing undesired side effects. In particular, it offers important fields of investigation in the stimulation of the vagus nerve for the treatment of arrhythmias, obesity or asthma".
The field of possibilities offered by this technology is wide and unique in the world. It has been patented and licensed to Neurinnov by the University of Montpellier and Inria and four new patents around the product have been filed since the spin-off was created. This success story is the result of research work carried out for many years by David Guiraud, Christine Azevedo and David Andreu at Inria and the University of Montpellier in collaboration with Dr. Charles Fattal (USSAP Perpignan) and Dr. Jacques Teissier (Clinique St Jean).
More information:
https://neurinnov.com/
https://team.inria.fr/camin
https://eithealth.eu/project/agilis/