by Hanna Herger (Fraunhofer IIS) and Thomas Windisch (Fraunhofer IIS)
The requirements for efficient production and manufacturing processes are becoming increasingly complex in global competition. Digitalisation should increase not only quality but also flexibility and the mobility of processes. The solution for meeting these requirements can be "wireless IoT technologies", which form a basis for networking and interaction between machines (M2M) as welLl as between information systems and the physical world. For IoT applications in the field of production and logistics, in particular, "wireless IoT technologies" are increasingly used to digitise processes and make them more efficient. This article shows how the field of commissioning is optimised by the wireless networking technology s-net®: Wireless pick-by-light systems enable more efficient and flexible order-picking processes and support interactions with people.
Wireless IoT technology for smart commissioning
The Fraunhofer Institute for Integrated Circuits (IIS) located in Nuremberg, concentrates on topics in the field of positioning and networking such as self-organising, wireless networking technology, wireless data transmission and the integration of sensor networks in production and logistics applications.
A technology developed by Fraunhofer IIS for extremely energy-efficient radio networking is s-net®. In recent years, it has formed the basis for the interaction between information systems and the physical world in increasing numbers of projects. In such cyber-physical systems (CPS), context-aware objects can record and transmit their application and environmental situation and interact independently and self-organising with several users, via s-net®. The integration of context-aware, networked objects is the key for a continuous digitisation of process-control and the Internet-of-Things (IoT).
Numerous IoT applications have already been implemented on the basis of s-net® networking technology. Especially in the context of Industry 4.0 and Smart Production, s-net opens up enormous potential. The digitised production benefits from s-net®, inter alia, in the areas of supported assembly and intralogistics, e.g. smart picking systems.
Commissioning is often the central function of warehouse logistics and has significant influence on other business areas, such as production and assembly. Digitisation is also changing the requirements for order picking: in addition to increasing efficiency and reducing the error rate, flexibility and mobility (for example, when changing product ranges or order fluctuations) are becoming increasingly important criteria. By using wireless pick-by-light systems, these requirements can be met.
Wireless pick-by-light: flexibility for mobile applications
Pick-by-light systems support the order picker with light signals for the intuitive and quick location of a storage compartment. Specific information such as the withdrawal quantity can be conveniently and quickly indicated on the shelf display - which results in a significantly higher picking performance. At the same time, a lower error rate is achieved and costly rework is reduced. However, common cable-connected pick-by-light systems only partially meet the requirements of flexible and low-effort picking. Fraunhofer IIS has therefore developed a wireless picking system based on the s-net networking technology, which has the advantages of previous pick-by-light systems and also meets the requirements for flexibility and scalability.
With the aid of s-net technology, the pick-by-light system can be implemented wirelessly and mobile. Due to the extremely high energy efficiency, the shelf displays can last up to several years battery-powered. The self-organised communication between the individual compartment display nodes of the pick-by-light system makes it possible to easily install the compartment display on the shelves, and facilitates temporary storage structures and a rapid remodelling of removal compartments.
Optimisation of individualised assembly processes
A trend in the manufacturing industry, as in automobile production, is the increasing individualisation of products. Customer requirements need to be realised easily and cost-effectively up to batch size 1. For manual assembly processes, the complexity in terms of quality and efficiency increases, since different components have to be arranged in different orders for each product. This increases the demands on employees in terms of ensuring quality and efficiency of the assembly. The wireless pick-by-light system allows required objects, such as tools and correct components, to be made available in the right order directly at the assembly site.
TRILUM – Mobile Order Handling Solution
The wireless pick-by-light system [L3] based on s-net® technology is already available as a commercial product "TRILUM" from the cooperation partner AST-X GmbH. TRILUM guides employees to the correct storage position via LED light signal. Specific information such as the removal quantity can already be viewed on-site on an e-paper display in a convenient and time-saving manner. With the aid of an acknowledgment button, the removal of goods can be confirmed quickly and easily - the feedback to the warehouse management system is fully automatic and paperless.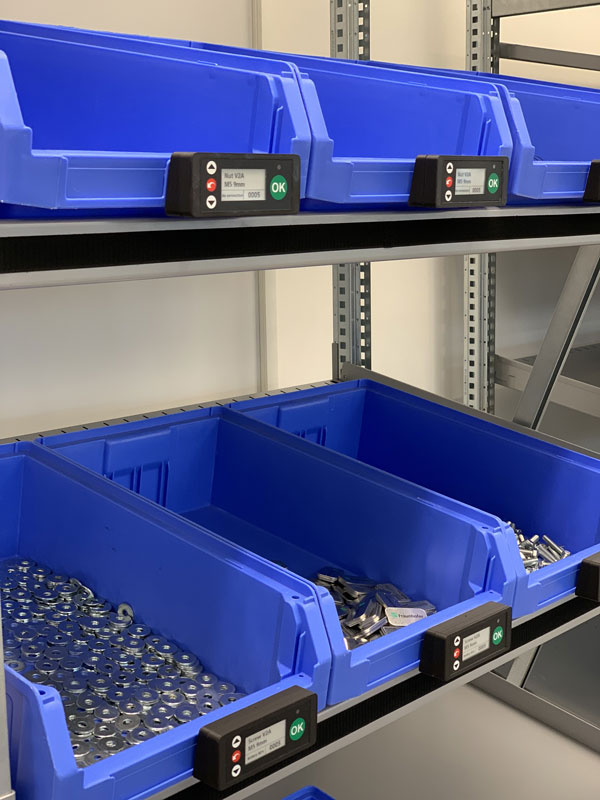 Figure 1: Wireless order handling solutions with the networking technology s-net® by Fraunhofer IIS.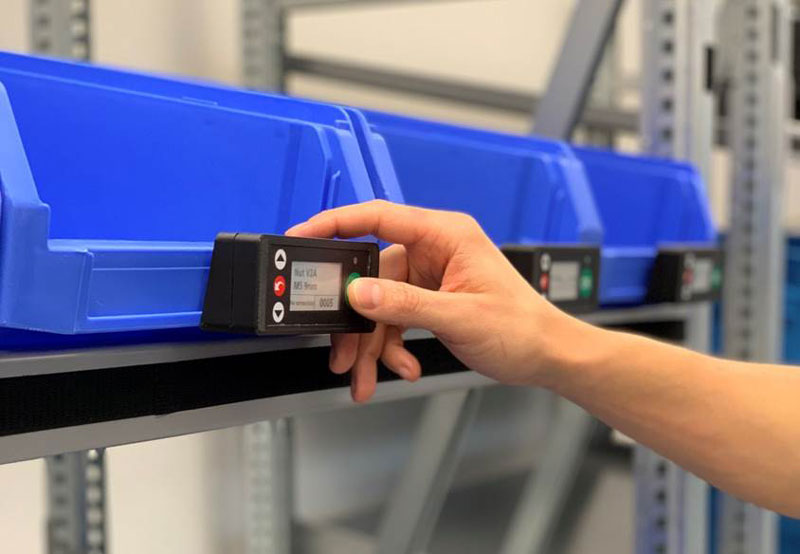 Figure 2: The self-organized radio communication between the individual compartment displays of the pick-by-light system allows an easy installation and is ideally suited for temporary storage structures and rapid remodeling of removal compartments and shelves.
TRILUM is mainly designed for use in logistics and production and especially suitable for flexible, temporary and mobile storage structures. The system is particularly easy to adapt, making it ideal for environments where take-up compartments and shelves are often redesigned or changed:
Order picking processes: Light-guided order picking optimises warehousing processes in logistics and intralogistics - cost-effectively and paperless.
Assembly operations: During assembly, required objects such as tools and correct components can be provided in the correct order.
Distribution processes: Light-controlled distribution processes (put-to-light) ensure time-efficient, cost-efficient and error-free picking processes.
Links:
[L1] http://www.s-net-info.com/
[L2] https://trilum-solutions.com/
[L3] https://kwz.me/hEd
Reference:
[1] Hupp, Loidl & Windisch (2017), "Wireless IoT Für reinen Batteriebetrieb" in elektroniknet.de, https://kwz.me/hEc
Please contact:
Hanna Herger, Thomas Windisch
Fraunhofer Institute for Integrated Circuits IIS, Germany
This email address is being protected from spambots. You need JavaScript enabled to view it., This email address is being protected from spambots. You need JavaScript enabled to view it.