by Daniele Spoladore, Sonia Lorini and Marco Sacco (STIIMA-CNR, EUROVR)
Virtual and augmented reality technologies can support the process of clinical rehabilitation, making therapy more engaging, challenging and measurable for people with disabilities or injury, encouraging them to continue their rehabilitation outside of the clinical environment [1]. Although these technologies are used in some rehabilitation-related fields [2, 3], their extensive application in the clinical field is still limited.
The European Project VR4REHAB aims to foster the adoption of novel virtual reality (VR) applications for rehabilitation and health care. The project, a collaboration between seven European partners (Sint Maartenskliniek, European Association of Virtual Reality and Augmented Reality (EUROVR), St. Mauritius Therapieklinik, Teesside University, Royal Free London NHS Trust, Université de Lille 1 - Sciences et Technologies and Games for Health Europe), aims to create innovative VR technologies for rehabilitation clinics. Indeed, virtual and augmented reality can help patients recover at home, with or without therapists, by following virtual instructions while being monitored by a set of sensors. Moreover, the virtual and augmented application can calibrate the difficulty of tasks according to the patient's ability, thus reducing boredom associated with too-easy tasks and the frustration that too-difficult tasks would generate. This can result in better engagement rates.
In 2018, the VR4REHAB project ran five hackathons across Europe (in The Netherlands, Germany, France, United Kingdom and Belgium), gathering talented youngsters, entrepreneurs, patients, rehabilitation personnel and technical specialists, to develop new ideas about rehabilitation with virtual and augmented reality. Specifically, the project fostered the development of new solutions to tackle five clinical themes: (i) pain management; (ii) engagement, and immersion to promote treatment adherence, (iii) behavioural and cognitive training in children with brain injury, 4) lower limbs and mobility; (iv) training of upper limb movements.
Following the hackathons, the best ideas enter a development phase, the Game Jams, during which the selected concepts are developed in prototypes with the help of companies and ICT professionals; the developed prototypes will be tested in clinical trials throughout 2019. Finally, in the last phase of the project, the Challenges, the prototypes will become real applications: the developers, supported by professionals, will develop business plans to put their application on the market and to reach their target groups.
VR4REHAB's five hackathons proved that the hackathon idea was a success: more than 270 people between 18 and 45 years old, such as young innovators, developers, researchers, patients, and health care professionals, participated in the event.
The ideas generated during the hackathons will be stored and published into an online library: a digital platform in which the concepts will be available for further development. Moreover, the online library will be made available to health professionals, who can provide feedback or helping the developers in fine-tuning their applications. This platform will be integrated into EuroVRs' website by the end of the project.
This project was financed by the EUx InterReg NWE programme.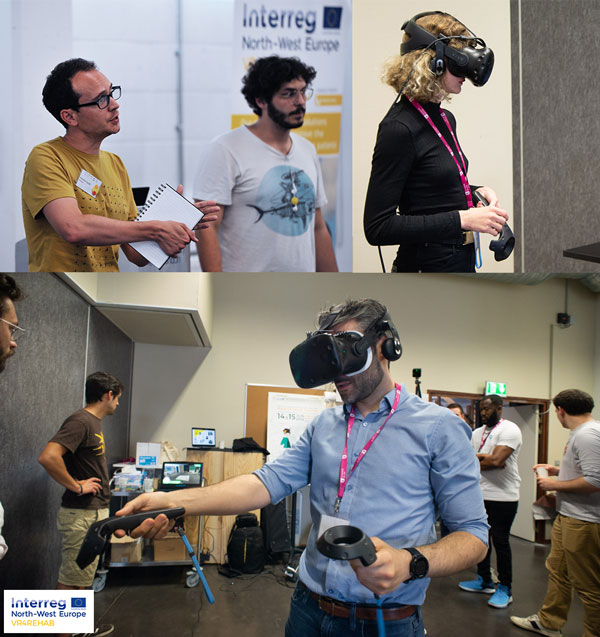 Figure 1: UK Hackathon (4 - 5 July 2018) & French Hackathon (14 - 15 June 2018). Participants of the event experiencing VR tools and pitching their ideas to an international audience.
References:
[1] S. Arlati, et al.: "A Social Virtual Reality-Based Application for the Physical and Cognitive Training of the Elderly at Home", Sensors 19.2 (2019): 261.
[2] D. Spoladore, et al.: "Semantic and Virtual Reality-enhanced configuration of domestic environments: The Smart Home Simulator", Mobile Information Systems 2017 (2017).
[3] D. Baldassini, et al.: "Customization of domestic environment and physical training supported by virtual reality and semantic technologies: A use-case" 2017 IEEE 3rd International Forum on Research and Technologies for Society and Industry (RTSI). IEEE, 2017.
Please contact:
Sonia Lorini, European Association of Virtual and Augmented Reality, Belgium
This email address is being protected from spambots. You need JavaScript enabled to view it.
http://www.nweurope.eu/VR4REHAB
https://www.facebook.com/VR4RehabProject