by Rüdiger Dillmann, Tamim Asfour and Antonis Argyros
Truly intelligent technical cognitive systems should be able to operate autonomously, interact naturally with their environment and the humans therein, and be adaptive to changing situations and contexts, including the user's preferences and needs. Currently, an encouraging spectrum of many isolated elements in the area of cognitive systems is realizable, including vision, speech, learning, decision making, planning and motor control. Nevertheless, the focus of these developments is mainly on performance in well defined, narrow domains. Successful attempts in building artificial, intelligent cognitive systems are still mostly restricted to systems designed for 'sunshine' environments having limited scope and performing simple tasks. The transferability of the developed skills and abilities to varying contexts and tasks without costly redesign of specific, ad hoc solutions is still impossible. In the future, research efforts must be devoted to rich cognitive challenges which are measurable and scalable in open ended scenarios under changing conditions, and to the development of measures, metrics and benchmarks that highlight and focus on both transferability and performance.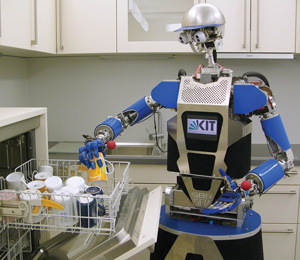 Image: ARMAR-III, a humanoid robot of the Karlsruhe Institute of Technology developed by the Collaborative Research Center on humanoid robots (SFB 588), funded by the German Research Foundation (DFG), as assistance robot in human-centered environments.