by Raúl Arrabales and Jorge Muñoz
CCBot-2, a software agent based on the CERA-CRANIUM cognitive architecture, was the winner of this year's edition of the BotPrize. This contest is an adaptation of the Turing test for a first person shooter video game. Although CCBot-2 could not pass the Turing test, she narrowed the gap with human players, being considered the most human bot, and achieving a humanness ratio of almost 32% (while the "less human" human player scored around 35%).
Creating believable bots has become a new area of interest over the last years. Game development companies are looking for new ways to improve their games and increase the believability of their bots – or non-player characters (NPC) – using new Artificial Intelligence techniques. However, current approaches do not seem to meet the high standards required by hardcore gamers. Artificial characters in video games are often considered either too predictable or too skilled, which inevitably results in frustration for the player, who usually ends up looking for other human players online. The background problem is that current game bots lack the ability to generate engaging human-like behaviour. With this in mind, a new competition was introduced in 2008: the 2K BotPrize [1]. This contest is an adaptation of the Turing test for a first person shooter video game called Unreal Tournament 2004. During the competition, both human and artificial players enter a deathmatch game anonymously, where the objective is to kill as many opponents as possible during a given period of time. Human players are able to observe and judge other opponents, tagging them as humans or bots (see Figure 1). The bot more frequently rated as human is the winner; furthermore, if a bot is wrongly identified as human on more than 50% of the judgements, it is considered to pass the Turing test (no bot has passed this Turing test to date).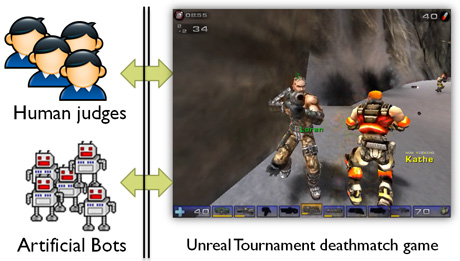 Figure 1: BotPrize judging protocol. Both human and artificial players can connect remotely to the game and are assigned random names to preserve anonymity.
CCBot-2 was the winner of the 2010 edition of the BotPrize competition, which was held last August in Copenhagen at the IEEE Conference on Computational Intelligence and Games. In contrast with classical AI approaches, CCBot-2 is based on a novel Machine Consciousness approach [2]. Specifically, the bot is controlled by a cognitive architecture called CERA-CRANIUM, which is modelled after several theories of consciousness such as the Global Workspace Theory.
CERA-CRANIUM consists of two main components: CRANIUM is a runtime environment for the creation and management of numerous parallel processes in shared memory spaces (known as Cranium Workspaces). These workspaces can be seen as particular implementations of a pandemonium or a blackboard system, where the daemons (or specialized processors) compete and collaborate with each other for activation. CERA is a four-layer architecture designed to provide a flexible control system for autonomous agents. Lower layers of CERA deal with raw sensory information, while higher layers generate more abstract meaning and behaviours:
The sensory-motor services layer is the interface between the cognitive architecture and sensors and actuators of a particular agent.
Physical layer uses a Cranium workspace and is in charge of the low level representation of both sensory information and actuators commands.
Mission layer also hosts a Cranium workspace and produces and manages elaborated sensory-motor content related with agent's complex behaviors and its current missions.
Finally, the core layer is the highest control level that generates an internal control signal used to modulate the way in which lower layers work.
Behaviours generated by the bot emerge as a result of the combination of most active processors running in the Cranium workspaces. Generally, specialized processors are rather simple and carry out relatively uncomplicated tasks (like determining if another player is an enemy or calculating the relative position of most dangerous enemy).
CERA-CRANIUM does not only try to decide what the next action should be (as in classical control architectures), but also what specific content should be the focus of conscious attention. We argue that addressing the latter issue is required in order to successfully cope with the action selection problem in a human-like fashion. This mechanism inspired by consciousness was the main difference between CCBot-2 and other BotPrize entries. CCBot-2 achieved a humanness ratio of 31.82% in the competition, still far from the 50% required to pass the Turing test (see Figure 2), however it was close to the "least human" human player, who scored 35% humanness.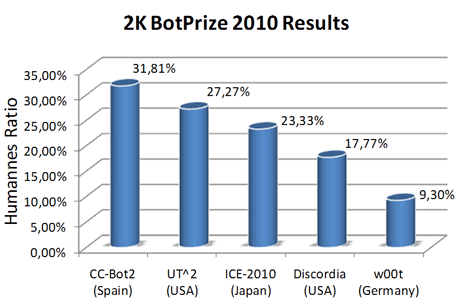 Figure 2: BotPrize 2010 results including five best entries.

Much work still needs to be done in order to pass the Turing test; we plan to enhance future generations of CCBot agents with additional cognitive features like episodic memory, a model of the self, and different learning techniques. We will follow the roadmap implicit in ConsScale [3], a cognitive scale designed to assess the level of consciousness of artificial agents.

Links:
[1] http://www.botprize.org/
[2] http://www.conscious-robots.com
[3] http://www.consscale.com

Please contact:
Raúl Arrabales and Jorge Muñoz,
Carlos III University of Madrid, Spain
Tel: +43 624 91 11, +34 624 62 58
E-mail: This email address is being protected from spambots. You need JavaScript enabled to view it., This email address is being protected from spambots. You need JavaScript enabled to view it.

{jcomments on}