by Susana Reboreda Morillo (Universidad de Vigo), Maddalena Bassani (Università degli Studi di Padova) and Ioanna Lykourentzou (Luxembourg Institute of Science and Technology)
The H2020 CrossCult project aims to spur a change in the way Europeans appraise history.
European history is an exciting mesh of interrelated facts and events, crossing countries and cultures. However, historic knowledge is usually presented to the non-specialist public (museum or city visitors) in a siloed, simplistic and localised manner. In CrossCult [L1], an H2020-funded EU project that started in 2016, we aim to change this [1, 2]. With an interdisciplinary consortium of 11 partners, from seven European countries [L2] we are developing technologies to help answer two intrinsically united humanities challenges:
How can we present historic knowledge to non-specialist audiences in an engaging way?
How can we further trigger these audiences to reflect, individually and collectively, on European history and its connection to the present?
In an era where unity is more important than ever in Europe, the CrossCult project contributes to the understanding of otherness, and shows the importance of the past to explain the present.
CrossCult is implemented through four pilots, which act as real-world demonstrators of what we aim to achieve. From large museums to small ones, and from indoors to outdoors, each pilot represents a strategically important type of European historical venue.
Pilot 1 – Large multi-thematic venue: Building narratives through personalisation
Pilot 1 takes place in the National Gallery in London. It triggers reflection through personalisation, as it uses the gallery's large collection to offer the visitors personalised stories that highlight the connections among people, places and events across European history, through art. Semantic reasoning, recommender systems and path routing optimisation are employed to ensure that each visitor will be navigated through the conceptually linked exhibits that interest them the most, while avoiding congested spaces as much as possible.
The improved quality of experience that this combination of technologies offers, balancing in a unique way individual visitor needs with museum-wide objectives, can be extended and customised to serve the needs of various other large venues across Europe.
Pilot 2 – Many venues of similar thematic: Building narratives through social networks and gaming
The second pilot triggers reflection through socialisation. It takes place in four different small venues (Montegrotto Terme/Aquae Patavinae, Italy; Lugo/Lucus Augusti, Spain; Chaves/Aquae Flaviae, Portugal; Epidaurus, Greece), where thermo-mineral water and its use is presented as one of the most important natural resources of the past and the present. Through social networked gaming and storytelling, the pilot connects remote groups of visitors helping them understand the historic connections shared by the venues, in this case on thermalism and water (composition, cults, health treatments, pilgrimages, leisure and daily life).
The focus on multiple venues is strategically important, due to the huge number of small and medium-sized museums around Europe connected through similar themes.
Pilot 3 – Small venue: Building narratives through content enrichment
Pilot 3 takes place in a peripheral, low-profile museum, the Archaeological Museum of Tripoli in Greece. Like many other small museums all over Europe, this venue houses interesting objects, but offers limited informative material and is often overshadowed by larger venues. Content enrichment, in the form of digital narratives, storytelling and social media, backed by psychology techniques, such as empathy increase, are used to create a non-typical visit that goes beyond a traditional object showcase and immerses visitors into life, power structures, and the place of women in antiquity. History, in this respect, becomes relevant to people's lives, enabling them to see the connections between their present and the past, by reflecting on ever-important human issues like religion, mortality and social equality.
The example of pilot 3 can be applied on multiple other small cultural spaces to help raise their profile and take advantage of the latest social, educational, technological developments.
Pilot 4 – Multiple cities: Building narratives through urban informatics and crowdsourcing
European history is intrinsically connected with location; our cities, buildings and streets bear the marks of the people and populations that have inhabited them. Pilot 4 takes place outdoors in two cities, Luxembourg City in Luxembourg and Valletta in Malta, and triggers reflection through urban discovery. Focusing on the topic of migration, past for Malta and present for Luxembourg, and using the technologies of location-based services, urban informatics and crowdsourcing, it invites people to walk the two cities, discover and share stories. Visitors and residents engage in comparative reflection that challenges their perception on topics touched by migration such as identity, quality of life, traditions, integration and sense of belonging.
This pilot has significant potential for the promotion of cultural tourism, as its technologies support the easy integration of new cities to its existing seed city network.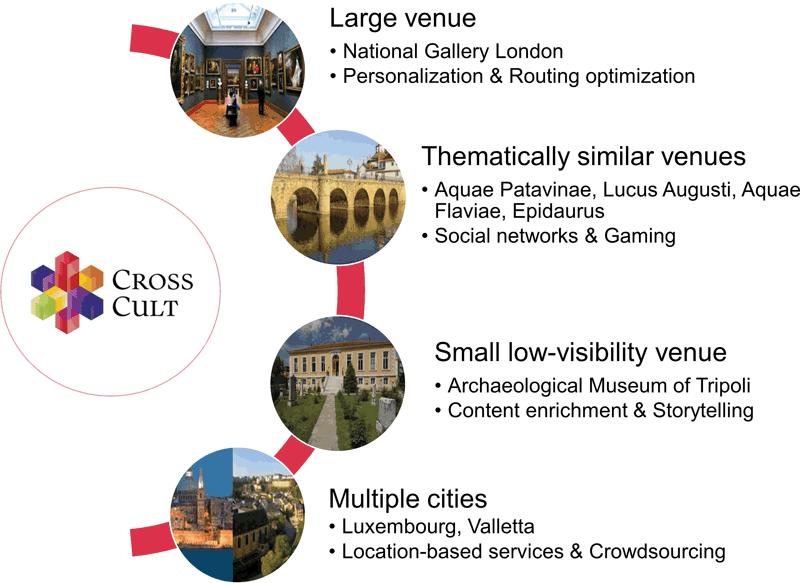 Figure 1: CrossCult H2020 project – Overview of the four pilots and their supporting technologies.
A Living Lab that you are welcome to join
CrossCult implements its vision through a living lab approach: we invite researchers, cultural heritage representatives and stakeholders to co-design with us, take part in our experiments and share their viewpoints in a network of venues and experts across Europe. Get in touch with us at This email address is being protected from spambots. You need JavaScript enabled to view it..
Acknowledgements:
We are grateful to Dr. Angeliki Antoniou, Dr. Evgenia Vasilakaki and the whole CrossCult consortium.
Links:
[L1] http://crosscult.eu/
[L2] https://kwz.me/hnu
References:
[1] I. Lykourentzou et al.."Reflecting on European History with the Help of Technology: The CrossCult Project", GCH 2016
[2] C. Vassilakis et al.."Interconnecting Objects, Visitors, Sites and (Hi)Stories Across Cultural and Historical Concepts: The CrossCult Project", EuroMed 2016
Please contact:
Susana Reboreda Morillo
Universidad de Vigo, Spain
+34 988 387 269, This email address is being protected from spambots. You need JavaScript enabled to view it.
Maddalena Bassani
Università degli Studi di Padova, Italy
+39 329 987 7881, This email address is being protected from spambots. You need JavaScript enabled to view it.
Ioanna Lykourentzou, Luxembourg Institute of Science and Technology
+352 275 888 2703, This email address is being protected from spambots. You need JavaScript enabled to view it.