by Maurice ter Beek (CNR-ISTI)
The yearly conference of the ERCIM Working Group on Formal Methods for Industrial Critical Systems, FMICS, the key conference at the intersection of industrial applications and formal methods, reached its 28th edition. This year the participants met in Antwerp, Belgium, from 20 to 22 September 2023.
The aim of the FMICS conference series is to provide a forum for researchers and practitioners interested in the development and application of formal methods in industry. It strives to promote research and development for improving formal methods and tools for industrial applications.
The conference was chaired by Laura Titolo (NASA Langley Research Center, AMA-NASA LaRC, Hampton, USA) and Alessandro Cimatti (Fondazione Bruno Kessler, Povo, Italy) and organised under the umbrella of CONFEST 2023, alongside with CONCUR, FORMATS, and QEST, and organised by the general chairs Guillermo Pérez (University of Antwerp, Belgium) and Jean-François Raskin (Université libre de Bruxelles, Belgium) and their team. FMICS 2023 attracted participants from many countries worldwide, both from academia and industry.
The international program committee, with 29 members from 15 different countries, received 24 submissions by authors from 12 different countries, and decided to accept 14 papers after a thorough reviewing process, including a rebuttal phase. The program moreover included two excellent invited keynote presentations, namely "Verification Conquers Fault Tree Analysis" by Joost-Pieter Katoen (RWTH Aachen University, Germany, and University of Twente, Enschede, The Netherlands) and "Combining automation with hands-on reasoning" by Anna Slobodova (Intel Corporation, Austin, Texas, USA), both of which attracted many participants also from the other CONFEST conferences.
Following a tradition established over the years, Springer sponsored an award for the best FMICS paper. This year, the program committee selected the contribution "Conformance in the Railway Industry: Single-Input-Change Testing a EULYNX Controller" by Djurre van der Wal, Marcus Gerhold, and Mariëlle Stoelinga (University of Twente, Enschede, The Netherlands) for the FMICS 2023 Best Paper Award (see Figure).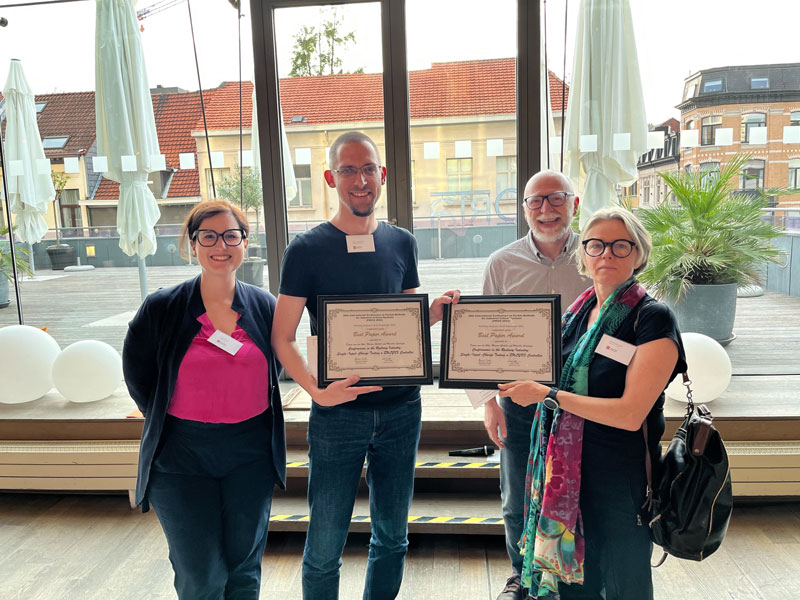 Djurre van der Wal and Mariëlle Stoelinga receive the FMICS 2023 Best Paper Award from the PC chairs Laura Titolo and Alessandro Cimatti.
FMICS 2024 will take place in Milan, Italy, co-located with the 26th International Symposium on Formal Methods (FM 2024), from 9 to 13 September 2024.
Links:
FMICS 2023 conference website: https://www.uantwerpen.be/en/conferences/confest-2023/fmics/
ERCIM WG FMICS: https://fmics.inria.fr/ 

Reference:
[1] A. Cimatti and L. Titolo (eds.), Formal Methods for Industrial Critical Systems: Proceedings of the 28th International Conference on Formal Methods for Industrial Critical Systems (FMICS'23), Antwerp, Belgium, 20-22 September 2023. Lecture Notes in Computer Science, volume 14290, Springer, Cham, 2023. DOI: https://doi.org/10.1007/978-3-031-43681-9

Please contact:
Maurice ter Beek
CNR-ISTI, Italy
This email address is being protected from spambots. You need JavaScript enabled to view it.