The ERCIM members Inria and CWI, two leading European research institutes in computer science and mathematics, have launched a new intensive research collaboration to tackle major societal challenges in the coming years. These challenges include:
Digital Energy: Developing new solutions to manage the electricity grid more efficiently and sustainably, using computer science and mathematics to predict network usage and balance supply and demand.
European ICT: Developing ICT systems that are aligned with European values, such as user control and privacy.Human interaction in a virtual world: Developing new technologies to enable more natural and engaging interactions between people in virtual environments.
The two institutes will work together to create new long-term bi-national research groups to investigate these challenges. This level of synergetic cooperation is unique in Europe and aims to strengthen the position of European ICT on the global stage.
The new collaboration was kicked off with a meeting in September 2023, where researchers from CWI and Inria discussed the latest scientific developments and intensified their collaboration. During the meeting, there was also room for meetings with partners from industry and other research institutes.
The collaboration between CWI and Inria is a significant step forward in the effort to use computer science and mathematics to address major societal challenges. The two institutes bring together world-class expertise in these fields, and their collaboration has the potential to make a real difference in the lives of people around the world.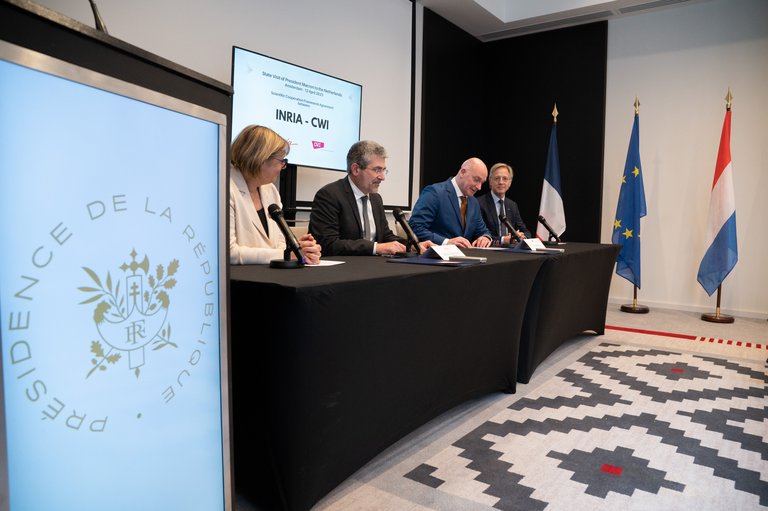 From left to right: French Minister of Higher Education and Science Sylvie Retailleau, chairman/CEO Inria Bruno Sportisse, CWI General Director Ton de Kok and Dutch Minister of Higher Education and Science Robbert Dijkgraaf in April 2023. Source: CWI.