by Karin Rainer (AGES), Viktoria Fischer (AGES), Alois Leidwein (AGES), and Georg Neubauer (AIT)

Digital solutions and support systems in pandemic management are the next step in enhancing current structures and overcoming identified gaps in the current state of the art. Currently, decision support systems are often rudimentary and seldom include the ethical and user-centric needs of the practitioners they are intended for. Thus, the "ROADS to Health" approach can give new insights focusing on requirements and pro-actively addressing and including ethical as well as holistic human aspects for enhanced applicability and user acceptance.
Looking back, most European countries were inadequately prepared for a pandemic of the dimension and manifestation of COVID-19. The uncertain epidemiological – but also infrastructural – information landscape made decision-making regarding public health strategy and targeted mitigation measures difficult, fluid, and highly disputed [1]. This also made it clear that current digital support tools were barely apt to answer the multiple, complex, and dynamic needs and requirements of the decision makers and of health authorities.
The often hard-learned lessons of the last years led to the conclusion that tailor-made systems and modules are required to generate supporting information and insight for an enhanced, evidence-based, and transparent decision support. Such a tool must also consider the requirements of the end users. In addition, the perspective and compliance of the "subjects" in regards to the measures and interventions (e.g., lockdowns) were not sufficiently considered, and it became evident that they need to be included in the development of future decision-support tools. Also, structured identification of specific requirements and pandemic parameters was clearly an important step in the enhancement of pandemic management (see Figure 1).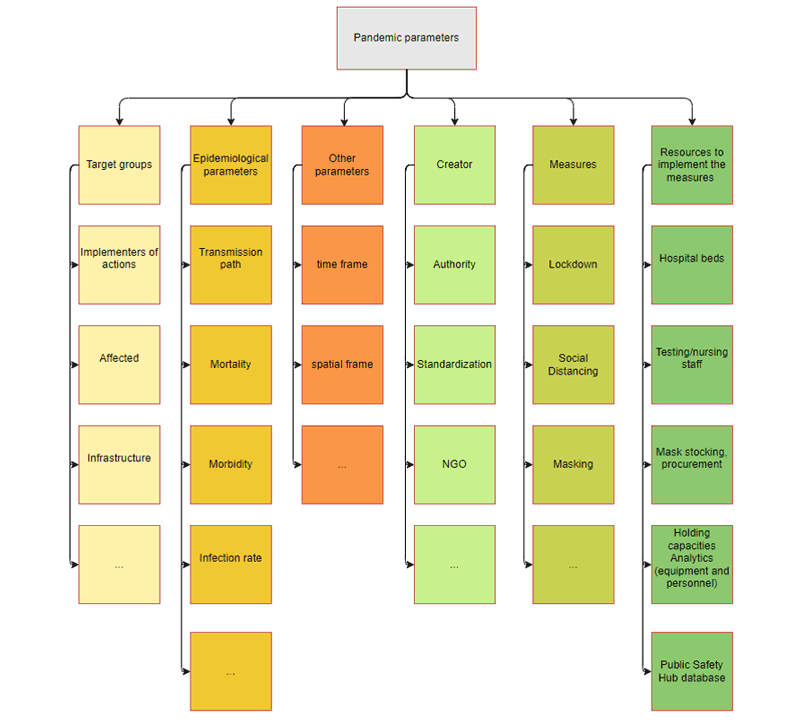 Figure 1: Structuring of pandemic parameters.
Thus, the project "ROADS to Health", a project funded under the national KIRAS security research program, is focusing on generating the basis for the matching of mitigation measures and requirements for tackling pandemics/epidemics from different angles, and including a broad range of specific needs. In this regard, epidemiologic, logistic, and strategic aspects, as well as the definition of other pandemic parameters like interventions and resources like equipment, can be identified as a relevant basis for a targeted intervention selection and measure matching following the current evidence.
Ethical aspects and holistic approaches to human needs like usability and optimised user interface design are only two aspects of the broad range of requirements that have to be integrated in an acceptable and actively used support system. After an initial concept to enhance the pandemic management (Rainer et al. 2021), it also became evident that international, scientific "lessons learned" from the COVID-19 pandemic as well as the active integration of stakeholders and end users and of ethical, gender-related, and legal issues have to be the strong backbone for any such endeavour.
With this background, the alignment of physical, interaction, and procedural measures with specific requirements answers the dynamic needs and manifestations of the pandemic and can lead to acceptable and transparent interventions that are also carried by the community. The ethical acceptability and inclusion of human factors is key for the further application of any support tool in a social system. This encompasses, for example, the inclusion of marginalised groups, aspects of the (e.g., age-related) digital divide, gender-related issues, and specifics but also the side-effects of impeded measures. These could be the long-term psychological effects and socio-economic burdens that measures have on the population or on parts of it.
The current effects of the lockdowns in schools on the psychological well-being and development of children and adolescents are another of the many examples of systemic effects of pandemic mitigation measures that have to be taken into account in any support tool for informed decision-making support.
These "collateral damages" and negative side-effects from social deprivation, delay in medical treatment, preventive measures, and many more aspects due to some COVID-related interventions (e.g., closing or reduction of resources in hospitals and general practitioners) must be considered in relation to the intended outcomes of the mitigation of the pandemic [2]. This difficult and complex balancing in a heated discussion at the beginning but also in the course of a pandemic event is a key communication and discourse challenge. Risk communication and the building of a stable ethical framework and trust in the official stakeholders is key to achieve a sustainable acceptance of the impeded interventions.
Finally, the ethical dimension also impacts on a discourse layer the strategic dimension of a holistic measure matching tool. Any strategy, be it "Zero COVID", "Flattening the Wave", or keeping the medical system from overload, has to be linked with ethical and human factor implications. The question of saving lives, of secondary effects, of seclusion and infringement of rights has to be a core aspect of any technological solution in this complex area. Developers and researchers must be very aware of these factors to foster applicable, acceptable, and helpful support tools and applications for decision-makers to support the stability and safety of a community.
References:
[1] E. Abrams, S. Szefler, "COVID-19 and the impact of social determinants of health", in The Lancet Respiratory Medicine, Vol. 8, Issue 7, 647-742, 2020.
[2] D. Lewis, "What Scientists have Learnt from COVID Lockdowns", Nature, Vol 609, pp. 236-239, 2022.
[3] K. Rainer, et al., "Risk, Vulnerability and Resilience Analyses for Pandemic Management: Challenges and Perspectives of Approaches for the Future", IDIMT-2021, Pandemics: Impacts, Strategies and Responses, 29th Interdisciplinary Information Management Talks, 163-174, ISBN 978-3-99113-261-5, Trauner Verlag. 2021.

Please contact:
Karin Rainer
AGES - Austrian Agency for Health and Food Safety, Austria
This email address is being protected from spambots. You need JavaScript enabled to view it.