by Manuela Kos (AIT Austrian Institute of Technology)

Together through distance, but virtually. The unexpected disruption called COVID-19 came upon Europe at a rapid pace. Companies and their employees had to adjust to the situation in the best possible way and to embrace new routines. We explain how this was achieved by the AIT Austrian Institute of Technology. 
In March of this year we were really thrown in the deep end. One day, employees were going into work as usual; the next, everyone was discouraged from attending the office unless absolutely necessary, e.g. to sustain a minimum presence of administration staff on site, or work in labs. At this time COVID-19 was still unknown territory for society.
The restrictions on social and work gatherings didn't only affected our institute: they had more far-reaching consequences than initially anticipated. Trade, cultural and leisure facilities and schools were affected, and some families faced the challenge of working from home. The situation was further intensified by home schooling, home cooking, home cleaning, home playing, etc. This was particularly challenging for families with several children, necessitating an unprecedented level of multitasking. At the AIT, and especially at the Center for Digital Safety & Security, we were well-equipped to embrace this challenge. Over 95% of our employees have laptops and were able to continue their work without interruption. Special consideration was given to employees with childcare obligations, who were supported through various models, both by colleagues and the company. After a short "acclimatisation phase" to this new situation we managed to do this well, in my view. Several factors contributed to the success of this process:
Stay connected: The informal "coffee chats" from the office kitchen were held virtually. Lots of informal exchange occurs in this kind of setting: The final status of a project is discussed; quick updates about deliverables are passed on; and briefings for the next meeting are discussed. Of course we also used these meetings for informal social conversation.
Come with us: New colleagues, who had already had the challenge of changing jobs in this particularly volatile time, were virtually taken along. We endeavoured to hold the meetings with a camera so that new colleagues had not only the voice but also a visual impression of their colleagues. We also held mixed meetings when circumstances allowed: one part of the group physical and the other part virtual. Tours of our institute have also helped to familiarise new colleagues with the new environment. "Pop-up telcos" were also established, replacing the idea of visiting our own office and encouraging informal exchange.
Multi-channel presence: Various media offer different services. The pandemic forced us to break out of our established routine and enter new territory. This has created a variety of new opportunities. I would say that many of us now know and use more than just one conference tool. In this respect, too, we have learned and changed very quickly. Zoom, Go to Meeting, Webex and Skype for Business are now part of everyday life and will continue to accompany us into the future. Microsoft Teams have proven to be particularly useful. By creating teams and subgroups, information can be exchanged quickly and very easily. This also plays a major role in the social aspect, since almost no physical exchange was possible.
Stay relaxed, practice acceptance: A key factor for me was not to lose my nerves. All over the globe you could see funny pictures of crashed video calls, and this is something we experienced too. The motto has to be: "Stay cool. Do what you can and try to be as good as possible in the situation". Cooking lunch during a telco or sitting in front of the computer in the evening for a concentrated period of work helped a lot. But good coordination and a schedule were also necessary. In web conferences, it was sometimes funny to hear children talking or crying in the background, dogs barking, or interruptions from telephones or door-bells ringing.
Currently in our second lockdown, we are almost old-hands at working from home. However, it is still critical to note the full scope of perspectives and experiences: colleagues who live alone have particular challenges to deal with. The problem here is not that there are too many people in the home office, but too few. The danger of isolation is real; but we at AIT have made preparations for this situation, addressing it through special programs and a virtual offer of a meeting or a consultation hour. AIT's sports club offered online Live-Stream Team Events, Outdoor and Live-Stream Workouts. In the office, face masks were available for free, and the slogan displayed everywhere was "Together through Distance" (see Figure 1). In Austria the "standard measure" of social distancing was the "Baby-Elephant", about 1.5 m, because just before the COVID-19 outbreak a baby elephant was born in the Schönbrunn Zoo in Vienna, a very popular event.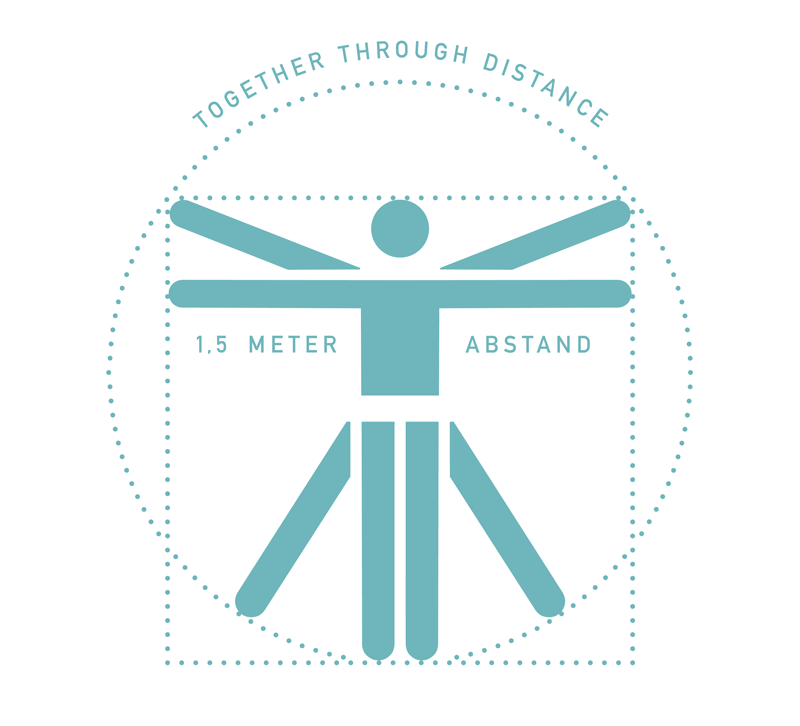 Figure 1:  Keeping 1.5m distance is required also in the office.
Formal department meetings, European project reviews and other activities (e. g. standardisation meetings, workshops and training) took place virtually. Additional effort was necessary to develop videos instead of live demonstrators or exhibition booths. We have found this form of online interaction to be effective when listening and taking part in a more passive way, but not so good for real personal networking, brief small-group meetings aside the main meetings as done normally during coffee breaks, and intensive discussions. Further, the very efficient information exchanges that can take seconds during regular work hours across an office desk, may instead take days, requiring email exchanges or return phone calls. The increased number of telcos or web conferences, often scheduled simultaneously, present another challenge. The attitude that "it is only a web meeting" has raised the expectation that shorter weekly meetings between project partners/clients can replace the meetings that are traditionally held over several days two to three times per year. and could take place very (and too) often and at any time If a web conference includes partners from East Asia to California, even the selection of an appropriate time slot is a challenge.
Curse or blessing? A little of both would be the answer here. On the one hand, this situation gives us the opportunity to build up and maintain social contacts virtually – of course with some compromises. Also, flexibility must be provided and accepted by both employers and employees. Compassion and empathy are vital too. In my opinion, a home office is a nice option, but should not be a permanent situation.
Links:
[L1] https://www.ait.ac.at/en/ 
[L2] COVID Pop-Up Hub

Please contact:
Manuela Kos, AIT Austrian Institute of Technology, Austria
This email address is being protected from spambots. You need JavaScript enabled to view it.