by Veronika Siska (Austrian Institute of Technology) and Theresa Schredelseker (University of Duisburg-Essen)
The digital battery passport is an essential driver of sustainable production and circular economy by storing and tracking data for batteries throughout their life cycles. The BatWoMan project is paving the way towards carbon-neutral Li-ion battery cell production via new sustainable and cost-efficient methods, and by building a prototype for a digital battery passport.
Batteries are crucial for a sustainable energy supply. However, source materials often include hazardous or rare materials, whose mining and production processes cause a substantial environmental footprint. At their end-of-life, disposed batteries represent an additional burden, while reuse or recycling is often hampered due to a lack of information on the battery's materials and structure. European and global initiatives aim to mitigate this situation by promoting sustainable production processes and increased circularity along the battery life cycle. These include policy initiatives of the EU Green Deal (EU Battery Regulation [1], EU Ecodesign for Sustainable Products Regulation [2]) and the global public-private partnership Global Battery Alliance [L1].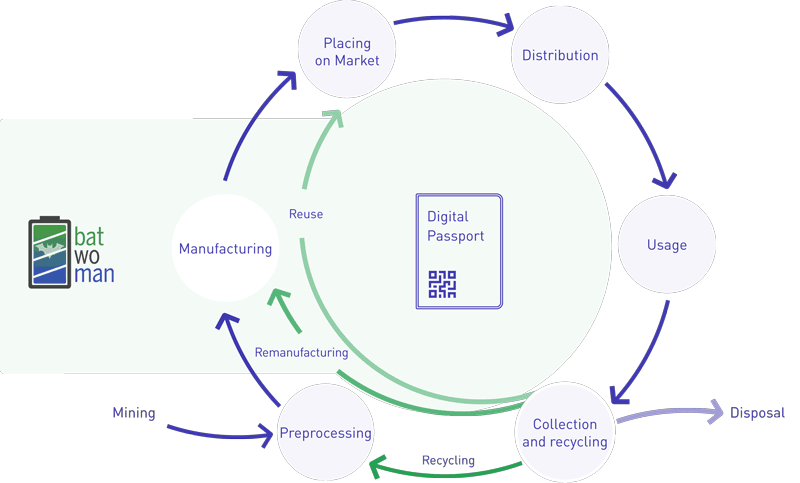 Figure 1: Battery life cycle, accompanied by a digital product passport. BatWoMan uses manufacturing data generated in the project and external/estimated data for other life cycle phases.
An important part of these initiatives is a standardised digital battery passport [3]. This passport will include a detailed description of the properties and current state of the battery and will accompany each individual battery throughout and after its operation time. Data stored in the passport will provide means for regulatory compliance, support informed decision-making by users and companies and enable a circular economy by providing crucial information to collectors and recyclers.
The digital battery passport will record relevant data from the entire value chain, from raw materials and manufacturing to usage and end-of-life. Before bringing a ready-to-use battery to the market, the manufacturer will create a unique identifier, physically accessible on the product (e.g. as a QR code). During its operation, the battery passport can be constantly updated, i.e. with data on its current status or about repairs. When reaching its end-of-life, second-hand users or recyclers can retrieve these data to guide their decisions about recycling, repair or reuse. Access control is crucial at all stages: some data might be accessible to the public, or only to certain entities along the value chain, such as the authorities or auditors.
The technical architecture underlying battery passports would consist of a decentralised dataspace ("electronic exchange system" in the EU Battery Regulation), potentially combined with a centralised database. The centralised part may contain static information about battery models, or simply a searchable catalogue of available data in the decentralised dataspace. The decentralised dataspace would consist of data stored at their source (material supplier, manufacturer, etc.) and shared under pre-defined conditions. For example, suppliers could exchange data with manufacturers to facilitate optimisation of the production process, or authorities might have access to information necessary to verify regulatory compliance. By making use of emerging standards for decentralised dataspaces (e.g. the European Gaia-X[L2] and IDSA[L3] initiatives), such data can also be integrated with other existing and upcoming data ecosystems.
The upcoming new Battery Regulation of the European Union [1] is expected to come into force in 2026 and will require that all electric vehicle and LMT (light means of transport, such as e-scooters or e-bikes) batteries, as well as industrial batteries with a capacity above 2 kW h, are equipped with a digital battery passport. The goal here should be to lay a good foundation with sensible standards, guidelines and architecture that focus on sustainability, but without a heavy bureaucratic burden on industry. We need to avoid excessively strict regulations that would impede European innovation or trigger companies transferring their activities outside of Europe, and support the European battery industry in shifting to more sustainable manufacturing and operation practices.
The project BatWoMan[L4], started in September 2022 and funded by the European Union's Horizon2020 research and innovation programme, aims to develop new sustainable and cost-efficient Li-ion battery cell production concepts, paving the way towards carbon-neutral cell production within the European Union. As part of the three-year-long project, data will be collected from materials sourcing, as well as from an optimised, data-driven manufacturing process. A full life cycle assessment, in which the battery's carbon footprint throughout its lifetime is estimated, is another essential goal of BatWoMan. These data serve as a testbed for a battery passport, considering all processes from material supply to end-of-life.
The battery passport demonstrator within BatWoMan[L4] will build heavily on cooperation with major European product passport initiatives. German-driven BatteryPass[L5] aims to develop cross-industry content and technical guidelines with participation from major industrial players and demonstrate them in a pilot project, while CIRPASS[L6] prepares the ground for digital product passports across industries, focussing on the battery, textile and electronics sectors. The BatWoMan passport builds on and validates the prepared guidelines and standards and showcases a battery passport based on real production data from pilot factories that are members of the BatWoMan consortium. Architecture design for the battery dataspace and passport is planned to be completed by the end of the first year, followed by an initial prototype in the second year and a functional battery passport demonstrator by the end of the project.
The BatWoMan battery passport and data-sharing ecosystem might serve as a validation testbed for battery research and production, to help prepare a suitable set of guidelines and promote an innovative, green battery life cycle.
Links:
[L1] https://www.globalbattery.org/ 
[L2] https://gaia-x.eu/ 
[L3] https://internationaldataspaces.org/
[L4] https://batwoman.eu/
[L5] https://thebatterypass.eu/ 
[L6] https://www.digitaleurope.org/digital-product-passport/

References:
[1] "Proposal for a regulation of the European Parliament and of the Council concerning batteries and waste batteries, repealing Directive 2006/66/EC and amending Regulation (EU) No 2019/1020." 2020. https://kwz.me/hwX (accessed Jan. 30, 2023).
[2] "Ecodesign for sustainable products." https://commission.europa.eu/energy-climate-change-environment/standards-tools-and-labels/products-labelling-rules-and-requirements/sustainable-products/ecodesign-sustainable-products_en  (accessed Feb. 09, 2023).
[3] Y. Bai, N. Muralidharan, Y.-K. Sun, S. Passerini, M. Stanley Whittingham and I. Belharouak, "Energy and environmental aspects in recycling lithium-ion batteries: Concept of Battery Identity Global Passport," Materials Today, vol. 41, pp. 304–315, Dec. 2020, doi: 10.1016/j.mattod.2020.09.001.

Please contact:
Veronika Siska
AIT Austrian Institute of Technology GmbH, Austria
This email address is being protected from spambots. You need JavaScript enabled to view it.