Bruno Sportisse was appointed Chairman and CEO of Inria on 27 June 2018 by a decree of the President of the French Republic. He replaces François Sillion who has been acting as Inria's Chairman since 22 January 2018.
Bruno Sportisse is a graduate of the École Polytechnique and chief engineer of the Corps des Ponts et Chaussées. He also holds a PhD in applied mathematics. His entire scientific career has been with or within Inria where he was Director of Technology Transfer and Innovation from 2008 to 2012.
In 2012, he was appointed as the digital and innovation advisor to the French Minister of Higher Education and Research, Geneviève Fioraso, then, in 2013, as Deputy Chief of staff to the French Minister for Digital Economy, SMEs and innovation, Fleur Pellerin. Notably, he initiated and led the interministerial programme "New Deal for Innovation", including the launch of the French Tech Initiative.
In 2014, Bruno Sportisse became the Executive Vice President of Thuasne, a mid-sized MedTech company, where he initiated the digital transformation of the company. In 2016, he started an entrepreneurial adventure that led to the creation of Skopai, a FinTech startup from the University of Grenoble-Alpes, combining artificial intelligence and natural language processing.
In 2018, he was given the task by the French Ministers Bruno Le Maire (Economy), Florence Parly (Defense), Frédérique Vidal (Higher Education, Research and Innovation) and Mounir Mahjoubi (Digital) to propose a design and implementation of a European Agency for Breakthrough Innovation in conjunction with the creation of the European Innovation Council (EIC) within the next European R&D framework programme.
Bruno Sportisse succeeds Antoine Petit as Inria's representative on the ERCIM EEIG Board of Directors. He was nominated President of ERCIM EEIG by the ERCIM EEIG Board of Directors on 9 October 2018 in Gothenburg for a two-year term. ERCIM EEIG, the European Economic Interest Grouping, is responsible for managing the ERCIM Office and hosting the W3C European Host.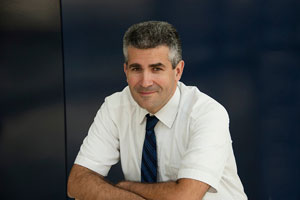 Bruno Sportisse. © Inria / Photo C. Tourniaire © Inria / Photo C. Tourniaire