On 17 November 2018 it was thirty years ago that the Netherlands was the first country in Europe to be connected to the public Internet. System administrator Piet Beertema from CWI (Centrum Wiskunde & Informatica in Amsterdam) then received the confirmation that CWI, as the first organization outside the USA, officially gained access to NSFnet, an academic computer network that later evolved into the global Internet. CWI celebrated this festive anniversary with the publication of a mini-documentary and the unveiling of a timeline with highlights in the building where the Internet in Europe started thirty years ago.
In 1988, after years of preparation (CWI was already the central node in the European 'EUnet' network), Beertema and his colleagues succeeded in gaining access to the - then American - internet, thanks to their good contacts in the network world. Other European research institutions were connected shortly after CWI. Commercial companies followed later, and private individuals had to wait until 1993. CWI became an important network hub between Europe and the United States. Nowadays, still a considerable part of the European internet traffic runs through the Amsterdam Science Park, where CWI is located.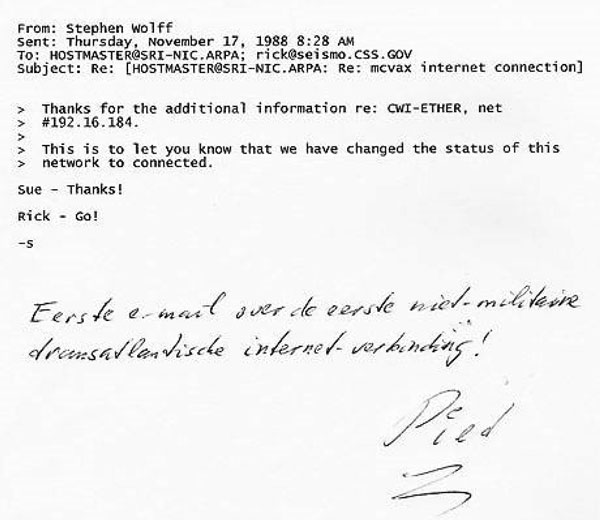 The confirmation of the first open transatlantic Internet connection between CWI and the United States . Source: Piet Beertema.