by François Henry
The Imperia is back on track in the 21st century, thanks to its intelligent hybrid propulsion management developed by Green Propulsion, a spin-off company from Université de Liège, Belgium. Clever electronics gives the new Imperia GP roadster outstanding sports car performance with a carbon footprint of 50 g/km.
Founded in 2001, Green Propulsion, a company that specializes in developing clean vehicles, has quickly become a leader in its field. The revival of the Imperia brand represented a unique opportunity to create a lightweight, ultra-high-performance hybrid car from scratch.
After a half-century in the oblivion, the Belgian make was revived by several motor sports aficionados who helped Green Propulsion shine up the glorious image of what remains of the last Belgian make of cars.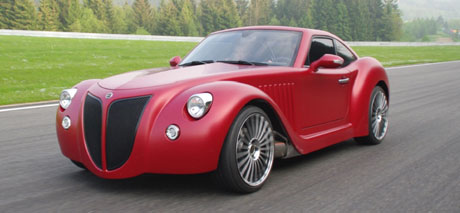 The PowerHybrid concept
The Imperia GP roadster is motorized by the PowerHybrid system, controlled by the HMS (Hybrid Management System) electronic brain which continuously balances energy transfer between the thermal engine, electric motor, battery pack, and wheels.
The power train is based on three energy components: a four cylinder 1.6 litre direct injection turbo engine generating 147 kW (200 bhp), a 110 kW (150 bhp) axial flux electric motor, and a lithium-polymer battery pack that stores 11 kWh. The energy sources are a classical fuel tank and a 3 kW battery charger.
Starting on electric power only, its range is some 60 km, but the Imperia's range is unlimited the moment it switches to the thermal engine once the batteries are drained. In hybrid mode, the batteries can also be recharged preventively when the vehicle is in motion. While driving, the driver can at any time select the type of propulsion required (electric or hybrid) by flicking a switch. Using another control, the driver decides whether to run the batteries down completely (so as to recharge them on the mains at the destination) or to keep a reserve for use upon entering urban traffic.
PowerHybrid
The innovative hybrid management strategy minimizes total CO2 emissions from well to wheel. To compare pollution from thermal and electrical power sources, one must consider emissions from each stage of the energy supply system. Decisions regarding operating modes and battery charging automatically result from this minimization strategy.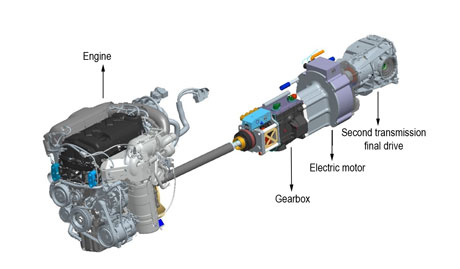 For the thermal engine, this means considering not only direct emissions from the exhaust pipe but also fuel extraction, transport and refining emissions. A total -direct plus indirect- CO2 emissions map has been pre-calculated from the engine's fuel consumption.

For the electric part, each electron taken out of the battery will need an equivalent charge at the end of the trip. Battery drain depends not only on the electric motor demand but also on many other conditions, such as battery state of charge and temperature. The charging AC power needed at the mains is proportional to the battery drain multiplied by an efficiency factor. An average CO2 emission factor from the electricity production site is determined (in kg CO2/kWh) per country. For the fuel emission computation, secondary emissions from the power plant attributed to fuel extraction, transport and refining are added.

In the vehicle, a CO2 emissions map is calculated for both motors. The emissions function in line with the vehicle power request is thus known at any vehicle speed and for each motor. Based on this function, a proprietary optimization algorithm determines the ideal power split between the fossil fuel engine and the electric motor. The driver may override this automatic hybrid management system if s/he knows a recharging station is close enough to allow a higher battery discharge rate.

Results
The Imperia GP roadster is one of the first in its market segment to offer a hybrid plug-in mode: a car that can be recharged via a 220V power socket. A full charge is obtained in 4.5 hours, for an unbeatable cost of € 0.034 (daytime rate) or € 0.016 (night rate) per km.

The PowerHybrid design minimizes well-to-wheel pollution from primary energy. Consequently, the Imperia GP roadster emits very little CO2 overall, and even zero direct emissions in electric mode. Following European regulation R101 for plug-in hybrids, the Imperia GP's mixed consumption -petrol and electricity- barely reaches 1.9 l/100km plus 11.5 kWh/100km and the CO2 emissions are below 50 g/km. In a more rigorous well-to-wheel philosophy, the environmental aims are also completely fulfilled with carbon emissions of 110 gm/km well-to-wheel or around a third as much as the Porsche Carrera S with similar performance.

The first Imperia consumers will take delivery at the end of the car's first production year in December 2013. Visit www.imperia-auto.be for details.

Results according to European regulation R101:
• Gas Mileage: 1.9 l/100km
• Electricity consumption: 11.5 kWh/100km
• Carbon Emission: 50 g/km

References:
Y. Toussaint, F. Henry: "PowerHybrid: An innovative powertrain concept uniting sportiness and environmental awareness", in proc. of European Electric Vehicle Congress 2012, Brussels, 2012.

J. Nzisabira, et al.: "Eco-efficiency methodology of Hybrid Electric Vehicle based on multidisciplinary multi-objective optimization", in proc. of ULG-LTAS, 8th World Congress on Structural and Multidisciplinary Optimization, 2009.

Please contact:
François Henry, Green Propulsion R&D/Test engineer
Tel: +32 42476011
E-mail: This email address is being protected from spambots. You need JavaScript enabled to view it.


{jcomments on}