by Yiannis Kompatsiaris, Spiros Nikolopoulos, Thomas Lidy and Andreas Rauber

A white paper on "Search Computing: Business Areas, Research and Socio-Economic Challenges" was recently published by CHORUS+, a European Coordination Action on Audio-Visual Media Search. It provides an overview of the business areas, the research challenges and the socio-economic aspects related to "Search Computing". It consolidates the experts' opinion about the future opportunities and trends in the search industry.

Search has become an important component of many diverse ICT applications. A large number of business and application areas such as: a) the Web, b) mobile devices and applications, c) social networks and social media, and d) enterprise data access and organization, depend on the efficiency and availability of search techniques being able to process and retrieve heterogeneous and dispersed data. Such techniques of "Search Computing" are directly related to a number of research topics ranging from multimodal analysis and indexing to affective computing and human aspects as well as to various socio-economic challenges including business models, open innovation, legal and ethical issues.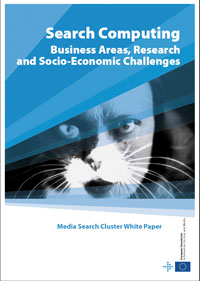 Cover of Media Search Cluster White Paper
The objective of the European Coordination Action CHORUS+ is to coordinate national and international projects and initiatives in the audio-visual search domain and to extend this coordination to non-European countries through mutual information exchange, dissemination and cross fertilisation. CHORUS+ provides a collaborative platform to support the efforts and foster collaboration between researchers as well as industry. The platform is an open repository and community effort to provide an overview of resources in the field of audio-visual search: available Tools, Datasets, and Publications as well as Benchmarking Events. At the business level, CHORUS+ aims to foster discussion and avoid fragmentation.
CHORUS+ activities include conferences, workshops and specialized Think-Tank events to discuss emerging technologies within a group of representatives from industry and academia. Based on the resulting findings, CHORUS+ publishes reports and white papers addressing technology producers, content owners and consumers. Recently, CHORUS+ together with 23 contributors from 12 R&D projects of the FP7 Media Search Cluster has published a White Paper on "Search Computing: Business Areas, Research and Socio-Economic Challenges" providing an overview of the business areas, the research challenges and the socio-economic aspects related to "Search Computing".
The business areas include mobile, enterprise, social networks and music, focusing on current status, technology and application requirements and the arising new needs. Specific technologies and challenges are identified such as device limitations and location-based opportunities in mobile search but also challenges that are applicable across domains such as limitations of text-based approaches and new directions for content-based search. Despite significant research, there are still unsolved problems. The White Paper covers:
Multimodal search enabling queries and interaction independently of the form of the content
Affective-based search taking into account both the user's emotional state and the sentiment contained in multimedia documents
Event-based representation and analysis as an efficient and user-centric approach for the annotation and retrieval of content
User experience aspects including new generations of search interfaces (eg, visual search interfaces, augmented reality, 3D browsing in virtual places) to enable novel forms of search input and to avoid losing the overview over the incredible amount of content
Large-scale indexing addressing the scalability issues related to the huge volume of content available on the Web by using social connections to implement targeted and thus smarter indexes
Content-aware network nodes extending search in the network with challenges related rather to "discovery at the network" than "searching in the search engine"
Real-time approaches and architectures enabling to push information to users as fast as it is available, and maintaining the balance between quality, authority, relevance and timeliness
Content diversity in knowledge, providing the ability to identify and exploit the aspects that differentiate a piece of information from another
Aggregation, mining and Linked Open Data enabling data collection and aggregation from social networks and interlinking data chunks under the Linked Open Data principles
Standardization initiatives enabling a complete set of new technologies to face the market and achieve a deep impact on future business.
The socio-economic challenges of "Search Computing" are analysed next including business models, search and open innovation methodologies, benchmarking, legal and ethical issues (data protection and user privacy). New business models are needed in applications where user-generated content plays an important role in order to allow both commercial exploitation and protect user rights. Open innovation is the use of purposive inflows and outflows of knowledge to accelerate internal innovation and expand the markets for external use of innovation. Benchmarks are valued for their ability to streamline research by eliminating redundancy, enabling direct performance comparison between algorithms, increasing efficiency by sharing resources between research sites and providing a concrete framework in which researchers interact in a productive mixture of competition and collaboration. Finally, social networks pose new challenges to legal and ethical issues that should be carefully considered for proper usage and processing of personal data.

The overall conclusion of the White Paper is that "Search Computing" is an active area, with technologies needed in a number of markets and applications. Many issues are still unsolved and new ones have appeared resulting in many of technological and socio-economic research challenges.

Links:
The full White Paper is available from:
http://avmediasearch.eu/Search_Computing_white_paper
CHORUS+ Website: http://avmediasearch.eu
CHORUS+ Collaborative Platform: http://avmediasearch.eu/wiki/

Please contact:
Yiannis (Ioannis) Kompatsiaris
Informatics and Telematics Institute- Centre for Research and Technology Hellas, Greece
E-mail: This email address is being protected from spambots. You need JavaScript enabled to view it.

Andreas Rauber
TU Wien (AARIT), Austria
E-mail: This email address is being protected from spambots. You need JavaScript enabled to view it.

{jcomments on}