by Hilary Hanahoe

The iMarine project is chartered with establishing an open data infrastructure that will effectively support the implementation of the ecosystem-based approach (EA) to fisheries management and conservation of marine living resources.

iMarine's ultimate goal lies in defining corrective actions, alleviating pressure from endangered ecosystems, and assisting policy makers in promoting the sustainable exploitation of marine ecosystems. In the words of Donatella Castelli, ISTI-CNR, iMarine project director, "the iMarine data infrastructure will foster innovation by providing an open platform and a variety of services that are designed to become an integral part of the organized procedures of a wide community of practitioners addressing the challenges of fisheries management and the conservation of our marine living resources".

iMarine's roots lie in the D4Science project, which has developed capacities for data interoperability among different research infrastructures. The project has delivered an open-source technology capable of operating data e-Infrastructures in a federated virtual environment. D4Science identified the sharing of data among different partners as the next challenge. This is the engine behind iMarine, as Marc Taconet, FAO & iMarine Board Chair, explains "the idea was to give stronger capacity to drive the directions of data infrastructures development to an identified Community of Practice".

iMarine's Community of Practice, which plays a central role in underpinning the project's goal, brings on board both people working in biodiversity and people dealing with fisheries management, such as scientists, managers, lawyers, industry leaders, unions, fishery operators, sharing the same goal of fostering the sustainable supply of our living resources for future generations. The iMarine Board serves as an interface between the Community of Practice that supports the ecosystem approach and technology developers who ensure user requirements are taken on board. Almost 50% of fishery resources in our oceans are approaching the limits of sustainability. Another 28% are either overfished or hovering near depletion because of man-made and natural disasters. Good fishery management covering social, nutrition and economic facets becomes imperative to ensure our ocean's supply is sustainable now and in the future. This grand global challenge needs to be addressed by planning, developing, and managing fisheries in a way that caters for multiple social needs through a coordinated approach within ecologically meaningful boundaries. iMarine will establish and operate a data infrastructure that will facilitate the interdisciplinary collaboration among the members of the Community of Practice and will encourage the emergence of new scientific approaches and more effective working practices. Economies of scale afforded by the use of a common data infrastructure will significantly reduce the cost of applying the principles of the Ecosystem Approach. iMarine thus contributes to the three fundamental sustainability pillars – environmental, social and economic – of this Ecosystem Approach to Fisheries.

Implementing an ecosystem approach to fisheries management is intimately bound up with data sources and knowledge generation which is far broader in scope than traditional fisheries management and conservation. It is imperative that monitoring and assessment of target, emblematic, or vulnerable species be broadened to cover species assemblages, communities, habitats, and ecosystems, and that socio-economics be also broadened to cover fisheries' impacts on all goods and services offered by those ecosystems. What's more knowledge sources are generated in a wide variety of formats and stored in a large number of repositories, archives, and databases reflecting different policies, practices, and standards, which will all be addressed by iMarine. Providing a common layer to connect existing data sources and data infrastructures via established and standardized interfaces, implementing new features and value-added tools used by practitioners in fisheries management and marine living resources conservation allows the creation of a unique reference point for the global EA community of practitioners.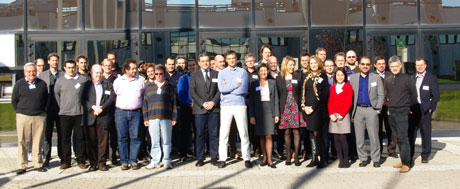 iMarine kick-off meeting participants

iMarine sets sail
The iMarine project was officially launched on 16 November 2011 in Pisa, where over 40 representatives from both the consortium and the iMarine board met for the first time. The significance of this first meeting is summed up by Marc Taconet, "this is the first time that we brought together such a rich set of high level experts with different expertise. The discussion was very rich and continued in a fruitful brainstorming that we are going to organise in collaborative remote discussions from now on. Clear directions have already been identified in terms of interoperability standards. We are confident that this board will help reach our goals".

The iMarine project is co-coordinated by the ERCIM Office and CNR-ISTI.

Link: http://www.i-marine.eu

Please contact:
Donatella Castelli, ISTI-CNR, Italy, iMarine project director
E-mail: This email address is being protected from spambots. You need JavaScript enabled to view it.

Jessica Michel, ERCIM, France
iMarine administrative and financial director
E-mail: This email address is being protected from spambots. You need JavaScript enabled to view it.

{jcomments on}