by Joaquim Jorge

INESC-ID and The IFIP Technical Committee on Human-Computer Interaction (TC13) closed yet another successful instance of its bi-annual event last September.

INTERACT 2011 gathered close to 400 people in sunny Lisbon, from 5-9 September, culminating in a non-stop one week marathon with two main conferences, thirteen workshops, six tutorials and four keynote presentations during which the participants discussed their views on the design and use of current and future interactive systems. The event was organized by INESC-ID, part of the Portuguese ERCIM member PEG.


INTERACT conference participants (Photo: Ricardo Jota)
INTERACT's main theme this year was "Building Bridges". And many were built. From 2 to 4 September a singular conference called INTERACCIÓN brought together the Portuguese and Spanish communities, just before the main event.
Bridges were also built when participants from industry exchanged their view of the world with practitioners, usability professionals and scientists in engaging and vibrant dialogues. INTERACT also built bridges across the world - 400 participants from 43 different countries from around the world attended the main conference. The program featured a record number of 112 technical papers selected from 402 submissions (28% acceptance rate) and 60 short communications selected from 278 submissions (22% acceptance rate). These numbers represent increases of 12% in volume as reported to 2009, attested by the some 1800 pages of proceedings published by Springer LNCS. Indeed, such figures are witness to the prominent role and community engagement in the INTERACT event. No less than 800 different reviewers were called upon to select entries from almost 700 submissions to the overall technical program.
Outstanding keynote presentations by Mary Czerwinski (MS Research), António Camara (Ydreams), Don Norman (NNG) and Saul Greenberg (Calgary) served as capstone to this very successful event.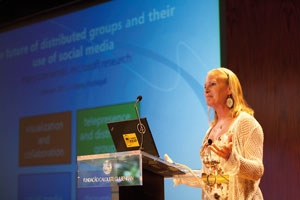 Mary Czerwinski (Photo: Ricardo Jota)
INTERACT 2011 is also building bridges between the real and digital realms. The post-INTERACT initiative aims at continuing and extending the exchanges past the physical venue to continue the conference online, via video recordings of all technical sessions and debate forums that we hope will continue and enhance the dialogue between authors and the community.
The next conference will take place in Cape Town South Africa on September 2013. We hope to see you there!
More information: http://interact2011.org
{jcomments on}