Adam Dunkels, senior scientist at SICS, Sweden, has been recognized by MIT Technology Review magazine as one of the world's top innovators under the age of 35 for his work on Internet-connectivity for embedded systems and wireless sensors. Selected from more than 300 nominees by a panel of expert judges and the editorial staff of Technology Review, the TR35 is an elite group of accomplished young innovators who exemplify the spirit of innovation.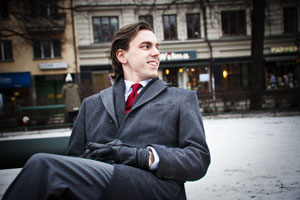 Adam Dunkels is known for his minimal software that allows any device to be connected to the Internet. His software is used by hundreds of companies including Cisco, BMW, NASA, Hewlett-Packard, General Electric, and ABB, in such diverse applications as air planes, car engines, satellites, and TV set top boxes. In 2008, he received numerous awards for his work, including the Xerox Chester Carlson prize, the ACM EuroSys Roger Needham award, and the ERCIM Cor Baayen award. Adam Dunkels is one of the founders of the IPSO Alliance, which TIME Magazine ranked as one of the most important innovations of 2008.
Additional information about past and present TR35 winners and judges is available at http://www.technologyreview.com/tr35/.
View winner Adam Dunkels in the TR35 Listing.