In 1969 the first official informatics curricula were started in Austria. This anniversary was celebrated at the Johannes Kepler University Linz in April 2009. The Austrian universities celebrated this event together with 300 attendees.
In 1969, university curricula were initiated via law and the Johannes Kepler University Linz began with the first official computer science curriculum in October 1969, soon followed by other Austrian universities. In spring 1971 a large workshop was hosted by the Ministry of Science in order to define and design computer science courses: The results were collected in a 180-strong proceeding volume (Stetter, H. and Weinmann A.:Informatik - Aspekte und Studienmodelle - Symposium zur Vorbereitung einer neuen
Studienrichtung in Österreich, Publication Series of the Technical University Wien, Springer Vienna-New York, 1971) and provide today interesting reading about the visions and plans of that time.
The celebration included a retrospective keynote by Christiane Floyd, University Hamburg, on the changes to informatics over the years and a future oriented keynote by Johann Eder, University Klagenfurt, on 'Grand Challenges in Informatics'. Additionally four pioneers from academia, four visionaries from academia, and six high ranking industrial specialists were interviewed on stage as to the history, status and future of computer science.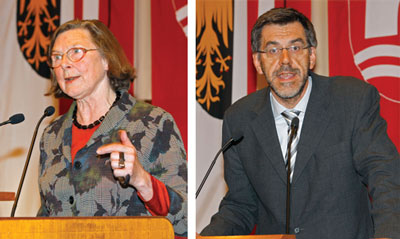 Christiane Floyd and Johann Eder.
A Festschrift (in German) containing both the material from the celebration and additional historical material on the development of Informatics Curricula will be available in fall 2009 from the Austrian Computer Society at http://www.ocg.at.