Details

Category: Keynote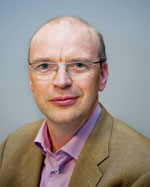 by Werner Steinhögl, Programme Officer at the European Commission, Components and Systems, Directorate General CONNECT
In our modern world, with all aspects of our lives becoming increasingly digitalized, Systems of Systems will play a crucial role. As the embedded world meets the Internet world there will be an increasing number of interacting systems with strong connectivity in both society and in industry. The growing overall complexity of systems has triggered a paradigm shift and the need to enhance the classical view of Systems Engineering towards Systems of Systems (SoS) Engineering. SoS describes the large scale and dynamically varying integration of many independent, self-contained systems to satisfy needs for services that can only be provided by the system as a whole. Examples of SoS include the electrical grid, a large processing plant with many process units, multi-modal traffic control, and combined heat and power generation.
Details

Category: Special Theme
Safety & Security Co-engineering
by Poul Heegaard and Erwin Schoitsch
In a highly interconnected world, a finite number of independently operable and manageable systems are networked together to achieve a higher goal as constituent systems of a 'System-of-Systems' (SoS), also referred to as a 'Digital Ecosystem'. Systems of Systems - characterized by self-organization, autonomous constituent systems, continuous evolution, scalability and sustainability - provide both economic and social value. Examples of SoS include: the smart power grid with power plants and power distribution and control, smart transport systems (rail, traffic management with V2V and V2I facilities for highly automated or autonomous driving, air traffic control systems), advanced manufacturing systems (industry 4.0), mobile co-operating autonomous robotic systems or vehicles, health-care systems, smart buildings and neighbourhoods - from local communities through to smart cities.