by Michail Giannakos and Letizia Jaccheri
Our Toys project is investigating how teenage girls participate in the creative production of digital artifacts. Furthermore, the project introduces them to digital and computer literacy. We capture the students' attention with character development using physical artifacts, and use computer programming to bring the character to life.
Digital artifacts that enable people to exchange, create, and distribute information have, in the past couple of decades, profoundly reshaped the way we work and live. The creative production of digital artifacts in learning activities has been linked to teaching new computer literacy skills [1]. Beyond desktops, ubiquitous technologies not only allow a more active and physical engagement, but also provide the opportunity for novel and creative interactions. Physical and digital enhancement also provides the facility to convey experiences that are not possible in the physical world, for example, turning our thoughts into reality (ie, through a 3D printer). In turn, this physical and digital enhancement can provide opportunities to encourage or even enhance further exploration, discovery, reflection, and collaboration.
In our approach, we designed and developed a workshop program called "Our Toys". Our Toys is based on open source software and hardware and consists of tutorials on open source tools, artifact-enriched creative sessions and students' demonstrations/presentations.
To date, 66 children have participated in our workshop program. The workshops took place at creative centres of University and ReMida centre. ReMida houses a variety of materials for use in creative and educational projects. The centre is a cooperation between the municipality, the education project, Reggio Children, the municipal waste company (recycling) and the local business community. Students worked according to Reggio Emilia education principles. The main idea is that the child takes the initiative in creative actions. ReMida centres are creative places with many appealing objects where children start to work without being prompted by adults.
The children attending the workshops were instructed and assisted by the programming artist, the leader of the ReMida centre, a senior researcher, the project manager and two HCI researchers. The children completed and published six interactive works and eleven installations (see example, Figure 1) based on the software/hardware and the recycled materials within the centre. At the end of the project, students' interactive projects were presented in an official exhibition in the university (http://www.itovation.org).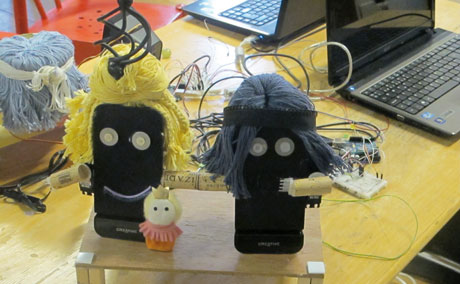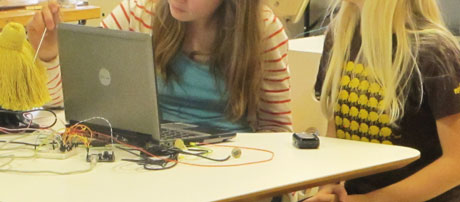 Children engaged in programming languages (ie, Scratch) and programmable hardware platforms (ie, Arduino), which enable them to engage in the world of creativity with digital enriched artifacts, like robots and interactive installations.

The early results of our initiative [2] showed that introducing young people (in particular, girls) to creative software and hardware intensive activities is a good way to attract students to the field of Computer Science by increasing their interest and engagement. In particular, we found out that our approach [2]: raises awareness of technology, makes the experience more intense, invites children to explore boundaries, and increases collaboration and the exchange of views and ideas.

Our Toys project is partly supported by the ERCIM "Alain Bensoussan" Fellowship Programmem co-funded by the EC Marie-Curie Actions and NTNU, in collaboration with ReMida centre and Trondheim Electronic Art Centre.

References:
[1] L. Buechley, M. Eisenberg, J. Catchen, A. Crockett: "The LilyPad Arduino: Using Computational Textiles to Investigate Engagement, Aesthetics, and Diversity in Computer Science Education" in proc. of CHI '08, ACM Press, 423-432[2] M.N. Giannakos, L. Jaccheri and R. Proto: "Teaching Computer Science to Young Children through Creativity: Benefits and Perspectives", in proc. of CSERC '13, ACM Press.

Please contact:
Letizia Jaccheri, Michail Giannakos (ERCIM Fellow)
NTNU, Norway
E-mail: This email address is being protected from spambots. You need JavaScript enabled to view it., This email address is being protected from spambots. You need JavaScript enabled to view it.


{jcomments on}