Floor Sietsma (20) of CWI in Amsterdam is the youngest PhD in the recent academic history of the Netherlands. Recently elected "Nerd of the Year" by readers of the Dutch magazine Quest, she was 20 years old when she defended her thesis "Logics of Communication and Knowledge" on 13 December 2012 at the University of Amsterdam.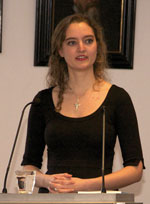 Sietsma's research concerns knowledge transfer in communication and makes use of epistemic logic, a logic of knowledge. She applies this to analyze shared knowledge in complex e-mail exchanges with visible (cc) and hidden (bcc) receivers. She also develops a complete logic of manipulative communication, for instance in a game of Liar's Dice, where players mutually agree to lie and deceive.

Sietsma started her PhD research at CWI in 2010 at age 17. She held a Bachelor's degree in computer science and a Master's degree in logic, and was at the age of 12 the youngest student ever at a Dutch university. For her research at CWI she was awarded a special, personal grant by the Netherlands Organisation for Scientific Research (NWO), because of her unique talents. 2.5 years later, she already had gathered enough material to defend her thesis. Sietsma also studies Pedagogical Sciences to be able to help gifted children.
{jcomments on}