by Petra Perner and Emanuele Salerno

The seventh international conference on mass data analysis of images and signals, MDA 2012, was held in Berlin from 13 to 20 July 2012. ERCIM was one of the sponsors and the ERCIM MUSCLE Working Group (Multimedia Understanding through Semantics, Computation, and Learning), participated in the organization.

Invited talks were given by Xiaoqing Ding of Tsinghua University in Beijing (Face recognition), Patrick Wang of Northeastern University in Boston (Intelligent pattern recognition), and by Petra Perner, director of IBAI in Leipzig (Quantitative measurement of cellular events). IBAI, the Institute of Computer Vision and Applied Computer Sciences, has been a member of MUSCLE since 2004. Jacques Lévy Véhel and Michel Tesmer won the MDA 2012 Best Paper award, for "A New Method for Multifractal Spectrum Estimation with Applications to Texture Description". Proceedings published by Ibai-Publishing, Fockendorf, Germany, ISBN 978-3-942952-15-6.

The enormous volume of data that characterizes our era is not useful in itself but does contain useful information. Large multimedia databases containing still pictures, videos, audio, and text documents are typical examples of highly redundant data sets, wherein very rich and informative patterns can be identified from both elementary pieces of information and mutual relationships between them. Pieces of information and related patterns, however, are often hidden in huge subsets of data and increasingly sophisticated techniques are needed to bring them to light, consequently, data mining techniques represent one of the most important toolkits at our disposal. As the size of our data records increases data mining techniques require continual refinements and improvements.

This was the theme of MDA 2012. The subjects ranged from discovering regularities in human faces or brain activity records to finding suitable metrics in complex multivariate processes, such as the behaviour of living cells, the output of a gene expression experiment, a speech signal, or the motion of multiple objects in a natural scene.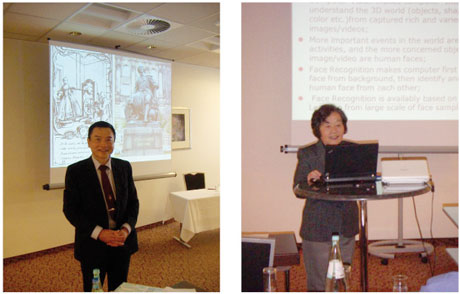 Prof. Patrick Wang (left) and Prof. Xiaoqing Ding
Finding useful information patterns in large databases means reducing redundancy, but redundancy must also be exploited to increase the robustness of the analysis and the reliability of the results. The analysts are thus faced with small-size, robust and reliable processed data. They also need to be sure that no useful information is lost and that the results are easily accessible and understandable. The latter requirement entails that imaging and visualization are essential complements of data mining techniques. All the fundamental problems in data mining have found some (not always general) solution. Today's mass data, however, challenge us to find ever more innovative approaches and practical procedures. High-level approaches should take precedence over methods based on low-level features and, whilst statistics and computation are still essential, including semantics is becoming inescapable. Working on classes and categories through means such as ontologies, case-based reasoning, and other knowledge-based strategies can be the key to face the new challenges. This affects equally the development of theory, the design of new methods and the practical applications. And this is why MDA is devoted to both the research and the industry audiences.
Links:
http://www.mda-signals.de
http://wiki.ercim.eu/wg/MUSCLE/
http://www.ibai-institut.de
Please contact:
Petra Perner, IBAI Institute, Germany
E-mail: This email address is being protected from spambots. You need JavaScript enabled to view it.
Emanuele Salerno, ISTI-CNR, Italy
E-mail: This email address is being protected from spambots. You need JavaScript enabled to view it.{jcomments on}