by Francesco Flammini (Editor)
Critical Infrastructure Security: Assessment, Prevention, Detection, Response provides a comprehensive survey of state-of-the-art techniques for the security of critical infrastructures (CI), addressing both logical and physical aspects from an engineering point of view. Recently developed methodologies and tools for CI analysis as well as strategies and technologies for CI protection are investigated in the following strongly interrelated and multidisciplinary main fields:
Vulnerability analysis and risk assessment
Threat prevention, detection and response
Emergency planning and management.
Each of the aforementioned topics is addressed considering both theoretical aspects and practical applications. Emphasis is given to model-based holistic evaluation approaches as well as to emerging protection technologies, including smart-surveillance through networks of intelligent sensing devices. Critical Infrastructure Security can be used as a self-contained reference handbook for both practitioners and researchers or even as a textbook for master/doctoral degree students in engineering or related disciplines.
WIT Press, United Kingdom; ISBN: 978-1-84564-562-5, 326 pages, 2012, Hardback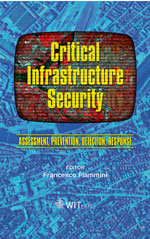 {jcomments on}