by Andreas Schrader, Peter Rothenpieler, Stefan Fischer and Jens-Martin Träder
Autonomous living for the elderly is increasingly challenging due to the demographic change. With an ambient assisted social network, autonomy and quality of life can be significantly increased. The SmartAssist system is being developed in a three-year project funded by the German Federal Ministry of Education and Research (BMBF).
In Ambient Assisted Living (AAL) research, the negative aspects of the growing life expectancy and accompanying challenges for our societies' healthcare system are often overemphasised. AAL projects typically approach these challenges with high-tech infrastructure (eg ambient intelligence) in order to augment or even replace human healthcare services with (semi-)automatic technical services (eg robotic intervention).
Higher life expectancy should also be considered as a very positive development, providing us with more time for private, professional and social activities. The elderly of the future will also have greater potential for an autonomous and active lifestyle, including all aspects of a healthy and fulfilled life such as sports, nutrition, education, entertainment, travel and social interaction.
AAL should therefore focus on the positive, as well as the negative, aspects of growing life spans and strengthen the existing private and professional networks and infrastructures, reducing the burden on caregivers and increasing the autonomy of caretakers at the same time, while preserving the immense skills and experiences of the elderly cohort within our society. In particular, AAL could be used to extend the autonomous life time within the private home for as long as pos-sible and delay or even prevent the transition to nursing home healthcare services.
This goal can only be reached by a coordinated and supported action of many peers (which we call patrons) of the social network, including relatives, friends, neighbours, service providers, nursing staff, doctors and emergency rescue services.
This is the motivation for developing the SmartAssist platform, which intends to realise an ambient assisted autonomous living for elderly people and their social networks seamlessly at home and on the move.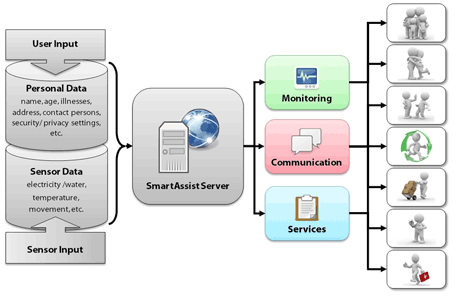 Figure 1:  Overview on the SmartAssist Platform.

The SmartAssist consortium consists of three institutes of the University of Luebeck: Telematics (system design), Signal Processing (data analysis), and General Medicine (medical evaluation); coalesenses (sensor components); and Vorwerker Diakonie (households). The project leader is the security and service provider Lübecker Wachunternehmen.

The SmartAssist platform consists of a web based service portal; an in-home sensor network; a central data server; and an extendable infrastructure for mobile devices. Through the integration of open standards (Android, OSGi, OpenSocial, etc.), the system can be extended in a flexible manner and allows for building context-sensitive services with integrated data protection and privacy control.

SmartAssist patrons are registered members of a SmartAssist network. Profile information includes personal data and preferences, as well as security and privacy settings, allowing for customized data access. Patrons also dynamically specify their role as service consumers or providers. Service providers can act as domain experts and offer dedicated support on the platform (eg nursing services). The elderly users themselves can also act as service providers to other members of the network (eg offering homework supervision for school children).

Context information is provided by a novel in-house, unobtrusive, wireless sensor network realising self-configuration with minimal maintenance. Sensors monitor normal daily life activities (eg temperature, movement, water and electricity consumption, location, humidity). A gateway transports the data to the server, where dedicated signal processing algorithms are provided, that enable automatic detection of gradual changes of the user's health status based on slow variation of typical activity patterns. In addition, a novel platform (Dynamix) has been developed, converting Android devices to mobile sensors for environmental parameters and user activities and facilitating connection of other (wireless) medical devices.

Registered patrons can use the platform to monitor the condition of the elderly and trigger context-sensitive stationary or mobile services, for instance, sending an SMS to the neighbour in case of a prolonged period of inactivity. External third-party providers can use the system to offer health or lifestyle services (eg automatically scheduled taxi transport for dialysis sessions based on calendar entries in the profile).

We realise a few prototypical example services within the framework, including iGoogle gadget service integration; sensor value visualization; mobile health awareness cockpit; augmented reality kitchen; medication reminder service; and a multi-user exercise biking game. This list is constantly expanded over time and we are targeting a large integrated set of stationary and mobile third-party services within the SmartAssist platform.

Currently, we are equipping about 50 SmartAssist households in the city of Luebeck. In addition, a second group of 50 patients with equal age and gender distribution has been selected as a comparison group. Over the course of 12 months, we plan intensive evaluation of the system both in medical and social terms.

The SmartAssist project is supported by the Federal Ministry of Education and Research (BMBF), Germany. ID: 16KT0942.

Link: http://www.smartassist.de

Please contact:
Andreas Schrader
Ambient Computing Group, Institute of Telematics, University of Lübeck, Germany
Tel: +49 451 500 3724
E-mail: This email address is being protected from spambots. You need JavaScript enabled to view it.

{jcomments on}