The Visual Computing Lab at ISTI-CNR has just released MeshLab for iOS, an advanced, yet easy-to-use, 3D model viewer for iPad and iPhone, designed to display complex Cultural Heritage 3D models. This app has been developed by the same team that developed MeshLab, the leading open source mesh processing system.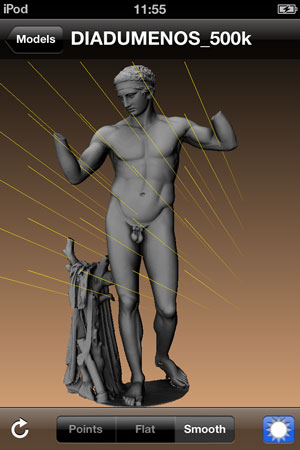 MeshLab for iOS enables an accurate inspection of 3D models through a precise yet straightforward navigation which makes it possible to:
read models from a variety of standard 3D formats (PLY, STL, OFF, OBJ)
open models directly from web pages, email attachments, or DropBox
efficiently show highly complex models with up to 2,000,000 triangular faces on a iPad (well suited for presenting 3D scanned models).
In follow-up versions, increasingly advanced and innovative features will be added making it an even more powerful tool for the presentation, viewing, and analysis of 3D objects.

More information: http://www.meshpad.org/

{jcomments on}