by Constantine Stephanidis
HCI International 2011, the 14th International Conference on Human-Computer Interaction, was held in Orlando, FL, USA, 9-14 July 2011.
This year, HCI International and the affiliated Conferences explored a wide variety of new hot topics which reflect and contribute to a paradigm shift towards ubiquitous interaction, intelligent environments and interactive technologies supporting virtually any aspect of human life and activities in a global and social perspective.
The 23-volume Conference Proceedings are published by Springer. Papers appear in volumes of the Lecture Notes in Computer Science (LNCS) and Lecture Notes in Artificial Intelligence (LNAI) series. Posters are published in the Communications in Computer and Information Science (CCIS) series. All volumes are available on-line through the SpringerLink Digital Library, readily accessible by all subscribing libraries around the world.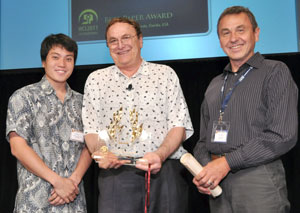 Best Paper Award for the HCII 2011 Conference.
An impressive number of nearly 2000 individuals from 61 countries participated in this truly international in scope event, where the work of the world's foremost leaders in the field was presented. The keynote speaker was Prof. Ben Shneiderman (University of Maryland, USA) and the title of his address was "Technology-Mediated Social Participation: The Next 25 Years of HCI Challenges". Furthermore, during the opening session, for the second time in the history of the HCI International Conference series, fourteen awards were conferred. Twelve awards were given to the best papers in each Affiliated Conference / Thematic Area. Among these twelve best papers, one paper was selected as Best HCI International 2011 Conference paper. Finally, the Best Poster also received an award.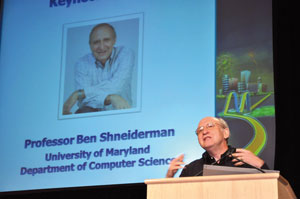 Links:
HCI International 2011: http://www.hcii2011.org/
HCI International Conference Series: http://www.hci-international.org/

{jcomments on}