Alan. F. Newell
In this monograph Alan Newell recounts the insights he has gained from his research and recommends a philosophy and design practices to reduce the Digital Divide between users of information technology and those who are excluded by the poor design of many current system.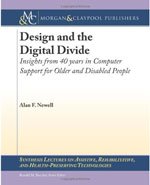 The monograph illustrates the issues surrounding good design by describing the various approaches to research into technical support for older and disabled people that have been developed by his research group over many years. These include:
Ordinary and Extra-Ordinary HCI - the parallels between able bodied people using technology for high stress situations and disabled people using standard interfaces
Design for Dynamic Diversity - taking into account the diversity and the rapidly changing characteristics of ole people
User Sensitive Inclusive Design - an expansion of the methodology of User Centred Design to include older and disabled people
The use of techniques traditionally taught in Art School and professional theatre both for requirements gathering and awareness raising.
Published by Morgan and Claypool, August 2011.
ISBN 9781608457403

{jcomments on}