by Sathya Rao

The FP7 funded MyFIRE project organised the first Future Internet Research Experiments (FIRE) workshop in Pune, India on 16 December 2010 together with itsIndian partners. The workshop was co-located with the 'Beyond Internet' conference. The aim was to identify common interests in developing collaborative European-Indian experimental research platforms to study the Internet of the future.

MyFIRE has plans to organize international workshops related to FIRE in BRIC countries during its lifetime to extend the future Internet Research experiments to the international levels, involving research testbeds and research institutes from emerging economies. As a first of this series of workshops, the project organized a workshop on 16 Dec. 2010, in India at the industrial city of PUNE (near Bombay) which hosts the research centre for national grid and cloud computing. The other reason for choosing Pune, was to develop closer links to international delegates participating in ITU Kaleidoscope event to address the 'Beyond the Internet' challenge, which was also organized in the same location on 13-16 Dec. 2010.

The agenda and the presentations of the workshop can be seen at www.my-fire.eu/indian-workshop. The workshop was organized by ERNET India, which represents the national education and research network, representing 1300 Universities and research institutes. The workshop had 136 participants in total, representing different stakeholders in future Internet research. Mr. N. Mohan Ram, Director General of ERNET India welcomed the MyFIRE project partners, delegates and other guests to the workshop and presented ERNET India activities including network services, international connectivity and research collaborations.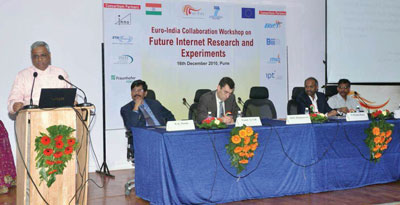 Opening session with key note speech from Prof. Ashok Jhunjunwala.

The main theme of the workshop was 'Euro-India Future Internet Research and Experiments Collaboration' to assemble the experts from both India and Europe addressing the research experiments and the different aspects of future Internet design. In this context, the chief keynote speakers were invited from the Indian communication ministry to present the landscape of Indian Internet research, networks and testbeds deployed and planned (Mr. B. K. Murthy, Head, NKN & Internet Governance / E-Infra Divisions, DIT, India) and Prof. Ashok Jhunjhunwala, the eminent scientist, recipient of multiple national awards, Indian Institute of Technology, Madras, India, as well as Prof. Ramjee Prasad, Chairman (GISFI)) and the speakers from Indian Institute of Science, Indian Institute of technology, Center for development of advanced computing, and Department of Telecommunication, Indian Government and national contact point ECIR representatives. The workshop had two panels to address: 'Testing Environment for Development of Future Internet: Activities Landscape' and 'Future Internet Experiments: Opportunities for Cooperation Between Europe and India' so as to have interactive discussions. Testbeds and research experiments related to IPv6, QoS, sensor networks, mobility, interoperability and Planetlab were part of speakers' presentations.

From the Indian side, Prof. Ashok Jhunjunwala delivered the keynote address and discussed the importance of inclusive and sustainable innovation for the Future Internet. He also shared his vision of ICT innovation for the rural India. Dr. B.K.Murthy from Department of Information Technology (DIT) spoke about Indian ICT landscapes and road maps and provided details on DIT initiatives and presented the National Knowledge Network project initiated by the Government of India, which could be a model for many developed countries as well as for developing knowledge for society in the future.

The panel discussion in the morning session was chaired by Prof. Vinod sharma, Chairman, Department of Electrical and Communications Engineering, Indian Institute of Science, Bangalore, to discuss a testing environment for development of the future Internet. The panel members were Dr.Malati Hegde(IISc, Bangalore), Mr. Badri Narayanan Parthasarathy (TATA) and Dr. Paventhan.A (ERNET India). Dr. Malati Hegde spoke on 6PANview- a network monitoring system for their 6LOWPAN network testbed. Mr. Badri Narayanan Parthasarathy gave a talk "Beyond the Internet – Innovation for Future Internet Services" and provided details about IPv6 features and business benefits. Dr. A. Paventhan presented a talk on research test beds for Mobile IPv6 in Heterogeneous access networks and media-independent handover services. Prof. Abhay Karandikar (IIT, Bombay) presented "Next Generation Mobile Broadband: Challenges and Opportunities" and provided details on India's present telecom scenario, backhaul innovations and a low-cost, IP-based distributed architecture.

The afternoon panel discussion was chaired by Prof. Ramjee Prasad to discuss the topic, Future Internet Experiments: Opportunities for Cooperation between Europe and India. The panel members were Mr.Jørgen Friis (ETSI), Viswanath Talasila (Honeywell), Sathya Rao (Telscom/ETSI) and Prof.Abhay Karandikar (IITB). The panel had a lively discussion answering questions on collaboration opportunities.

MyFIRE provided the overview of FIRE activities in Europe and the survey results of MyFIRE findings. Over 135 participants were offered a comprehensive view of the FIRE initiative priorities, projects, and programmes in the European Union while benchmarking the Indian ICT research activities and initiatives, identifying the requirements of the research experiment landscape from providers' and users' perspectives and offering a vision of the way ahead in this collaborative endeavour.

The discussions both during the workshop and in private showed considerable interest of Indian researchers in European FIRE activities and in closer collaboration with possible participation in the future projects. The list of interested persons is available for the researchers in Europe on request, for developing future collaboration with Indian partners.

The questionnaire was distributed to collect the participants' feedback and the results were overwhelmingly positive: the Indian Scientific community would look forward to closer collaboration with European researchers, and they would like to have more such events to develop closer networking and cooperation.

The MyFIRE project is organising the next workshop on 8th of April 2011, in Beijiing, China. Details of the workshop can be seen at http://www.my-fire.eu/chinese-workshop.

Link: http://www.my-fire.eu

Please contact:
Sathya Rao, Telscom, Switzerland
E-mail: This email address is being protected from spambots. You need JavaScript enabled to view it.

{jcomments on}