by Wolfgang Theilmann and Ramin Yahyapour (invited article)
IT-supported service provisioning has become of major relevance in all industries and domains. The research project SLA@SOI provides a major milestone for the further evolution towards a service-oriented economy, where IT-based services can be flexibly traded as economic goods, ie under well-defined and dependable conditions and with clearly associated costs. Eventually, this will allow for dynamic value networks that can be flexibly instantiated thus driving innovation and competitiveness. SLA@SOI created a holistic view for the management of service level agreements (SLAs) and provides an SLA management framework that can be easily integrated into a service-oriented infrastructure.
Europe has set high goals in becoming the most active and productive service economy in the world. This is especially true for IT supported services, which have evolved into a common utility which is offered and consumed by many stakeholders. Cloud Computing, for instance, has gained significant attention and commercial uptake in many business scenarios. With more companies incorporating cloud-based IT services as part of their own value chain, reliability and dependability become crucial factors in managing business. Service-level agreements are the common means to provide the necessary transparency between service consumers and providers.
SLA@SOI is a major European project that addresses the issues surrounding the implementation of automated SLA management solutions on Service Oriented Infrastructures (SOI) and evaluates their effectiveness. SLA's are particularly relevant to cloud computing, an increasingly important and relevant deployment model for infrastructure, services or platforms. SLA@SOI allows such services to be described by service providers through formal template SLA's. Once these template SLAs are machine readable, service composition can be established using automatic negotiation of SLAs. Moreover, the management of the service landscape can focus on the existence and state of all necessary SLAs.
A major innovation of SLA@SOI is the multi-layered aspect of the service stack. Typically, a service is dependent on many other services. For example, the offering of a software service requires infrastructure resources, software licenses or other software services. SLA@SOI's SLA framework allows the configuration of complex service hierarchies with arbitrary layers.
Architecture
The technical foundation to the functional and business innovations is a highly configurable plug-in-based architecture, supporting flexible deployment options which are incorporated into existing service landscapes. The primarily open source implementation embraces the latest open standards. A harmonized virtualization infrastructure supports private, public and hybrid clouds, whether they use commercial or open source provisioning systems. The accompanying figure illustrates the anticipated SLA management activities throughout the Business/IT stack.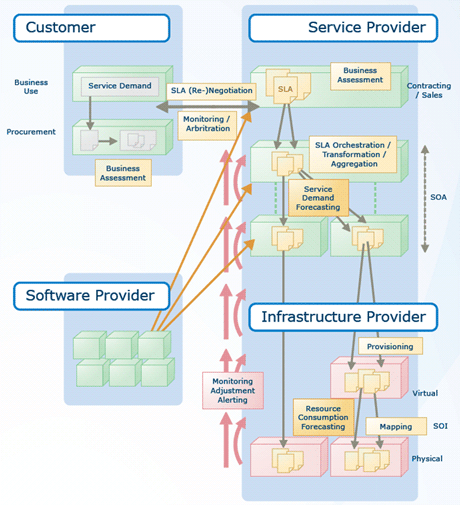 Figure 1: SLA@SOI project overview.

The framework's architecture mainly focuses on separation of concerns, related to SLAs and services on the one hand, and to the specific domain (eg, business, software, and infrastructure) on the other. Service Managers are responsible for all management activities directly related to services. This includes the management of information about available services, supported types of services, as well as their offered functionality and their dependencies. SLA Managers are responsible for all actions that are related to service-level agreements. They are involved in negotiation with customers and are responsible for the planning and optimization of new services that are to be provisioned. Furthermore, they monitor the terms upon which a provider and customer have agreed and react in case of violations. SLA Managers can negotiate with each other in order to find the best offer for a customer. The provisioning of a service is a joined effort of all SLA Managers and Service Managers involved. In order to support multiple domains with our framework, multiple SLA managers and multiple Service Managers can collaborate inside the framework as well as across framework boundaries. Thereby, each SLA Manager and Service Manager is responsible for SLAs and services of a particular domain. The root of the management hierarchy is the Business Manager component. It is responsible for asserting overall business constraints on the system in order to meet business objectives and for maintaining customer and provider relations..

Innovations
SLA@SOI advances the state-of-the-art by realizing an open, powerful and flexible framework for SLA-enabling any service with an arbitrarily complex SLA. The innovations span not just functional concerns but also the business domain, and are constructed on a robust technical foundation. Technically, SLA@SOI will release a comprehensive open-source with reference models and plug-in implementations for common deployment scenarios. From a scientific point of view, it will publish new and evolved algorithms and models as well as contribute to open standards such as Open Grid Forum's WS-Agreement and Open Cloud Computing Interface (OCCI), or DMTF's OVF. The key innovations from a business perspective include a business management suite for automated e-contracting and post-sales management. Domain-specific adoption guidelines including reference templates and models will also be provided, simplifying integration of the framework into existing service landscapes.

Use Cases
SLA@SOI is a comprehensive project with a broad scope touching market segments in many areas. These include SLA Management, Service Oriented Infrastructures, Cloud computing, Enterprise Service Buses and XaaS provisioning (including Platform as a Service, Software as a Service, Infrastructure as a Service, etc). Through the development of several use cases the project deals with the concerns of a very interesting and diverse cross section of industry, namely ERP hosting, Enterprise IT, Service Aggregation and eGovernment.

Outlook
SLA@SOI clearly provides significant progress beyond the current state-of-the-art as it will realize the first service-oriented infrastructure that allows for comprehensive SLA management support across all layers. In such a scenario, the composition of a complex service becomes relatively easy by combining existing services in a dynamic manner. This includes SLA management support that enables a real end-to-end quality of service. Using open interfaces and the combined functionality will also lower the entry barriers for all software providers to participate in a service ecosystem. Thus, small and medium sized enterprises will greatly benefit from SLA@SOI as such companies will be able to deliver very reliable service to their customers.

Links:
SLA@SOI: http://sla-at-soi.eu/
Project Twitter: http://twitter.com/slasoi

Please contact:
Wolfgang Theilmann
SAP Research, CEC Karlsruhe, Germany
Tel: +49 6227 7-52555
This email address is being protected from spambots. You need JavaScript enabled to view it.

Ramin Yahyapour
IT and Media Center/Service Computing Group
Technische Universität Dortmund, Germany
Tel: +49 231 755-2346
E-mail: This email address is being protected from spambots. You need JavaScript enabled to view it.



{jcomments on}