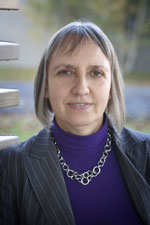 Lynda Hardman (CWI) has been elected President of the Board of Informatics Europe, the European association of computer science departments and research laboratories, starting from January 2016. ERCIM and Informatics Europe have agreed to increase cooperation on activities that are relevant to both organisations. Hardman succeeds Carlo Ghezzi (Politecnico di Milano, Italy). The election took place at the annual General Assembly during the 11th European Computer Science Summit in Vienna, Austria.
Hardman has been serving as member of the Informatics Europe Board since 2012. She founded the Informatics Europe Working Group on Women in Informatics and was responsible for the publication of the booklet "More Women in Informatics Research and Education". She regularly speaks at events to inspire and encourage a new generation of female talent in computer science.
"Informatics research is a driving force of European economy and society", Hardman says. "It is my honour to be able to serve the community in my role as president of Informatics Europe. At a European scale we can increase the quality of informatics research, ensure that educational innovations can be more easily disseminated, and also strengthen the development of commercial cooperation across Europe."
Lynda Hardman is a member of the management team at CWI, a senior researcher in the Information Access research group and coordinator of the CWI Information theme. She is a professor in Multimedia Discourse Interaction at Utrecht University. Her research focuses on human-computer interaction. In 2014 she was named Distinguished Scientist by ACM, for her individual contribution to the field of computing.
More information: http://kwz.me/Rm