by Matteo Cossale, Rolf Clauberg, Andreas Doering, Ronald Luijten, Bruno Michel and Stephan Paredes
A prototype of the world's first water-cooled 64-bit microserver, which is roughly the size of a smartphone, is part of the proposed IT roadmap for the Square Kilometer Array (SKA), an international consortium to build the world's largest and most sensitive radio telescope.
When it goes live (by 2024), the Square Kilometer Array (SKA) will collect a deluge of radio signals from deep space. Every day thousands of antennas located in southern Africa and Australia will collectively gather 14 exabytes, and store one petabyte, of data. The SKA has been described as the ultimate Big Data challenge. To solve this unprecedented challenge, in 2012, ASTRON and IBM scientists launched 'DOME', an initial five-year, 35.9 million euro collaboration, named after the protective cover on telescopes and the famous Swiss mountain [1].
Microservers integrate an entire server motherboard in a single Server-on-a-Chip (SoC), excluding main memory, bootROM and power conversion circuits. This technology has evolved to a 64bit-processor able to run server-class operating systems (OSs).
The 64-bit microserver uses a T4240 PowerPC based chip from Freescale Semiconductor running Linux Fedora and IBM DB2. At 139 × 55 mm2 the microserver contains all of the essential functions of today's servers, which are four to ten times larger in size.
| | | | | |
| --- | --- | --- | --- | --- |
|   | Memory | Peak Memory Bandwidth | Processing Speed | Simultaneous Processing Threads |
| Microserver Card 139mmx55mmx7.6mm | 48GB | 43 GB/S | 200 GFlops | 24 |
| Drawer of 128 Microserver Cards | 6 TB | 5.5 TB/S | 25.6 TFlops | 3072 |
Table 1: Performance summary.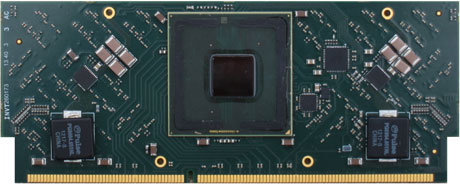 Figure 1: The Microserver.



Figure 2: Cooling and power delivery for the microserver. The coolant flow can be seen on each side of the figure.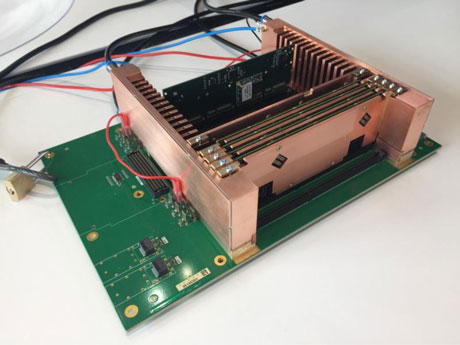 Figure 3: Microserver cluster demonstrator. Cooling water is delivered to the stack of cards via the manifolds on the left- and right-hand sides.
Not only is the microserver compact, it is also very energy-efficient. One of its innovations is hot-water cooling, which keeps the chip's operating temperature below 85 Co. The copper plate used to transfer heat from the chips to the hot-water flow also transports electrical power by means of a copper plate. The concept is based on the same technology IBM developed for the SuperMUC supercomputer located outside of Munich, Germany[2]. IBM scientists hope to keep each microserver operating between 35–40 watts including the system on a chip (SOC) — the current design is 40 watts.
Details of the design of the microserver were presented at the 2015 IEEE International Solid-State Circuits Conference [3].
Links:
http://www.research.ibm.com/labs/zurich/sto/bigdata_dome.html
http://www.research.ibm.com/labs/zurich/microserver/#fbid=84Tir8LUSrp
References:
[1] T. Engbersen: "A Radio Telescope of the Superlative", ERCIM News, No. 92, January 2013, http://ercim-news.ercim.eu/en92/ri/a-radio-telescope-of-the-superlative
[2] G. Meijer, T. Brunschwiler, S. Paredes, and B. Michel: "Using Waste Heat from Data Centres to Minimize Carbon Dioxide Emission", ERCIM News, No. 79, October, 2009.
http://ercim-news.ercim.eu/en79/special/using-waste-heat-from-data-centres-to-minimize-carbon-dioxide-emission
[3] R. Luijten, et al.: "Energy-Efficient Microserver Based on a 12-Core1.8 GHz 188K-CoreMark 28mm Bulk CMOS 64b SoC for Big-Data Applications with 159GB/s/L Memory Bandwidth System Density", ISSCC 2015, Paper 4.4, Feb.2015.
Please contact:
Ronald Luijten
IBM Research Zurich, Switzerland
E-mail: This email address is being protected from spambots. You need JavaScript enabled to view it.