ERCIM and Inria organized W3C Europe's 20th anniversary event in the salons of the Paris City Hall, on Tuesday 5 May 2015.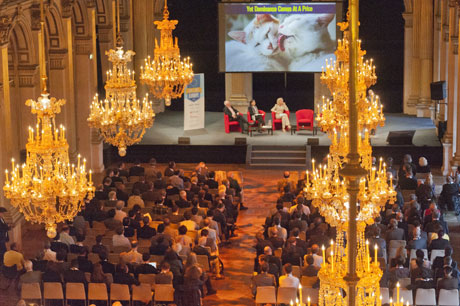 20 years celebration of W3C Europe in the Paris city hall (© Inria, photo G. Scagnelli).
Twenty years ago, the Web, born in Europe, was just taking off and the first cracks of browser fragmentation began to appear. To heal the cracks, a small group launched the World Wide Web Consortium, a big name for an even bigger project. This year, we celebrated the 20th anniversary of the European branch of W3C which played a key role in keeping the Web free, open and accessible to everyone.
Tim Berners-Lee, W3C director and Web inventor, together with a panel of Web luminaries, shared his vision of the future Web. The symposium speakers included Emmanuel Grégoire, Deputy Mayor of Paris; Michel Cosnard, former Inria CEO and ERCIM President; Axelle Lemaire, French Ministry of State for Digital Affairs; Isabelle Falque-Pierrotin, President of CNIL; Mário Campolargo, Director for "Net Futures" - DG CONNECT, European Commission; Inmaculada Placencia Porrero, Deputy Head of Unit for Rights of Persons with Disabilities, European Commission; Nicolas Colin, co-founder and partner, TheFamily, and Jean-François Abramatic, senior scientist at Inria, former W3C chairman and CEO.
Standardization, accessibility, privacy and the Web of Things were in the focus of the symposium. "We made a good a job, but we are far from having finished" concluded Tim Berners-Lee.
The Web is incredibly innovative, incorporating all manner of user experiences, business models, audio and video, data, programming paradigms, and hardware. W3C Europe can be proud of having achieved a lot during its 20 years of existence. Remaining and emerging topics are numerous and challenging, but the Web community's passion for building the Web helps us keep pace with the rapid changes in our field.
The event was sponsored by Inria and ERCIM, former and current W3C Europe hosts, and by Hachette Livre, as W3CEurope@20 supporter.