Details

Category: Keynote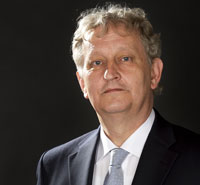 by Eberhard van der Laan, Mayor of Amsterdam
Smart Cities are a bit like football: Every city has a team working on a "Smart City" and wants to be the Smartest City in the world, and at the start of every season every supporter thinks his or her team will be the global champion. Various ranking systems exist, comparing cities on indicators ranging from energy consumption per capita to life expectancy; from Wifi coverage to crime-rates. In other words: Smart Cities are about everything and therefore about nothing. To be frank: I do not really believe all this Smart City marketing. I do believe that innovation and technology gives us the opportunity to improve the quality of life of the citizens and make our cities more competitive.
Details

Category: Special Theme
by Theo Tryfonas and Ioannis Askoxylakis
The old Chinese curse of "may you live in interesting times" has never been more relevant than in the field of urban development. For some time now, the global urban population has exceeded the global rural population. Cities and city regions have therefore emerged as the only growth models capable of meeting the increased demands and strains facing global supply systems, which are seriously affected by population growth, climate change, globalization and international security issues. Given these constraints, urban development is becoming a tough challenge.