by Alexander Mikroyannidis, John Domingue and Elena Simperl
There is currently a revolution going on in education generally, but nowhere more so than in the ICT field, owing to the availability of high quality online learning resources and MOOCs (Massive Open Online Courses). The EUCLID project is at the forefront of this initiative by developing a comprehensive educational curriculum, supported by multimodal learning materials and highly visible eLearning distribution channels, tailored to the real needs of data practitioners.MOOCs (Massive Open Online Courses) offer large numbers of students the opportunity to study high quality courses with prestigious universities. These initiatives have led to widespread publicity as well as strategic dialogue in the higher education sector. The consensus within higher education is that after the Internet-induced revolutions in communication, business, entertainment and the media, it is now the turn of universities. Exactly where this revolution will lead is not yet known but some radical predictions have been made, including the end of the need for university campuses (http://www.theguardian.com/education/2012/nov/11/online-free-learning-end-of-university).
Linked Data [1] has established itself as the de facto means for the publication of structured data over the Web, enjoying amazing growth in terms of the number of organizations committing to use its core principles for exposing and interlinking Big Data for seamless exchange, integration, and reuse [2]. More and more ICT ventures offer innovative data management services on top of Linked Data, creating a demand for data scientists possessing skills and detailed knowledge in this area. Ensuring the availability of such expertise will prove crucial if businesses are to reap the full benefits of these advanced data management technologies, and the know-how accumulated over the past years by researchers, technology enthusiasts and early adopters.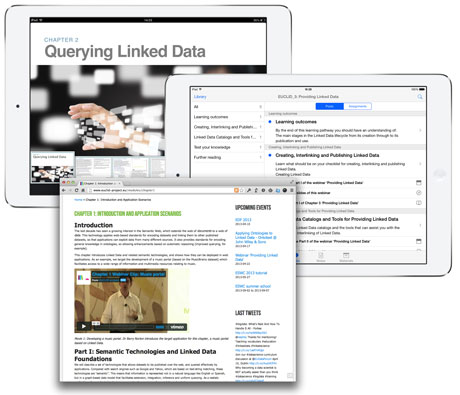 The European project EUCLID contributes to this goal by developing a comprehensive educational curriculum, supported by multimodal learning materials and highly visible eLearning distribution channels, tailored to the real needs of data practitioners. The EUCLID curriculum focuses on techniques and software to integrate, query, and visualize Linked Data within core areas in which practitioners indicate that they require the most assistance. A significant part of the learning material comprises examples referring to real-world datasets and application scenarios, code snippets and demos that developers can run on their machines, as well as best practices and how-tos.
The EUCLID educational curriculum consists of a series of modules, each containing multi-format learning materials, such as presentations, webinars, screencasts, exercises, eBook chapters, and online courses. These learning materials complement each other and are connected to deliver a comprehensive and concise training programme to the community. Learners are guided through these materials by following learning pathways, which are sequences of learning resources structured appropriately for achieving specific learning goals. Different types of eLearning distribution channels are targeted by each type of learning material, including Apple and Android tablets, Amazon Kindles, as well as standard web browsers.
Instead of mock Linked Data examples, we use in our learning materials and exercises a collection of datasets and tools that are deployed and used in real life. In particular, we use a number of large datasets, including the MusicBrainz dataset, which contains 100Ms of triples. Our collection of tools includes Seevl, Sesame, Open Refine and GateCloud, all of which are used in real life contexts. We also showcase scalable solutions, based upon industrial-strength repositories and automatic translations, e.g. by using the W3C standard R2RML for generating RDF from large data contained in standard databases.
Additionally, EUCLID has a strong focus on the community and encourages community engagement in the production of learning materials through, for example, collecting user feedback via our webinars, Twitter, LinkedIn, and more. EUCLID combines online and real-world presence, and attempts to integrate with on-going activities in each sphere such as mailing lists and wikis. The project engages with the Linked Data community, both practitioners and academics, by collecting user requirements as well as feedback about the materials so that they can be tailored to what the learner really needs.
The EUCLID project consortium brings together renowned institutions in eLearning and Linked Data research. The project consortium is coordinated by STI Research (Austria) and consists of the Karlsruhe Institute of Technology (KIT - Germany), Ontotext (UK) and The Open University (UK). Additionally, the project has a number of associate partners, including Fluid Operations AG (fluidOps - Germany), University Simón Bolívar (Venezuela) and the University of Southampton (UK). EUCLID is supported by the Seventh Framework Programme. The project started in May 2012 and has a duration of two years.
Links:
The EUCLID web site, showcasing the project's learning materials: http://www.euclid-project.eu/
The EUCLID channel on Vimeo, including all webinars and screencasts: https://vimeo.com/euclidproject
The EUCLID channel on SlideShare, including all presentations: http://www.slideshare.net/EUCLIDproject
The EUCLID community page on LinkedIn: http://www.linkedin.com/groups/Education-Training-on-Semantic-Technologies-4917016
The EUCLID Twitter channel: http://www.twitter.com/euclid_project
References:
[1] T. Berners-Lee: "Linked Data - Design Issues", 2006, http://www.w3.org/DesignIssues/LinkedData.html
[2] C. Bizer, T. Heath, T. Berners-Lee, "Linked Data—The Story So Far," International Journal on Semantic Web and Information Systems, vol. 5, pp. 1–22, 2009, http://dx.doi.org/10.4018/ jswis.2009081901
Please contact:
Alexander Mikroyannidis
Knowledge Media Institute, The Open University, UK
E-mail: This email address is being protected from spambots. You need JavaScript enabled to view it.
http://alexmikro.net/about/
John Domingue
Knowledge Media Institute, The Open University, UK
E-mail: This email address is being protected from spambots. You need JavaScript enabled to view it.
http://people.kmi.open.ac.uk/domingue
Elena Simperl
Web and Internet Science group, University of Southampton, UK
E-mail: This email address is being protected from spambots. You need JavaScript enabled to view it.
https://sites.google.com/site/elenasimperl/
{jcomments on}