Details

Category:

Keynote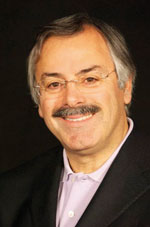 by Domenico Laforenza
The scientific and professional societies in ICST in Europe have a key responsibility in helping to understand and to shape the digital future. They should collectively identify the vision, needs and priorities, and offer their expertise to the entire discipline and to society as a whole.
A round table on the "Role and Strategies of the European ICST Public Research Organisations towards Horizon 2020", was held in October 2012 in the framework of the ERCIM Fall meetings at INRIA Sophia Antipolis. The panel addressed how European public research organisations working in Information and Communication Sciences and Technologies (ICST) can contribute to the success of Horizon 2020 (H2020), and in particular to the strategic direction of the "Excellence in Science" agenda. Members of the panel were: Domenico Laforenza (CNR, ERCIM Vicepresident – panel moderator), Keith Jeffery (STFC-RAL, ERCIM President), Michel Cosnard (CEO and Chairman, INRIA), Jan van Leeuwen (Utrecht University, Chair of the European Forum for ICST), Jos Baeten (CEO, CWI), Matthias Jarke (Chairman, ICT Group, Fraunhofer Gesellschaft).
The initial presentation addressed the new challenges introduced by H2020. After an overview of the objectives and structure of H2020, focusing on the three pillars of the H2020 strategy (Excellent Science, Industrial Leadership and Societal Challenges), DG "Connect" (the new Directorate General for Communications Networks, Content and Technology created by the EC in July 2012 in order to manage the Digital Agenda for Europe) was presented.
Details

Category:

Special Theme
by Edgar Weippl and Pietro Manzoni
A few years ago, the IT industry forecast that consumer demand for data would surpass that of the voice market. At the time, few could conceptualize such an outlook. These days the data market is at least 70% larger than the mobile market, and still growing. Mobile technology has advanced in leaps and bounds over recent years, such that experts predict that, within the next few years, mobile computing will be strictly bound to cloud computing. Mobile cloud computing is set to impact and transform the mobile communication landscape and the whole computing infrastructure. Computing offloading, for example, is one of the main features of mobile computing to improve the battery life of mobile devices and to improve the performance of applications. However, there are many associated issues to solve, including efficient and dynamic offloading in a variable environment.