Details

Category: Keynote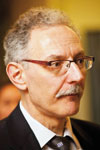 by Kostas Glinos, European Commission, DG Information Society and Media, Head of GEANT and e- Infrastructure Unit
The management of extremely large and growing volumes of data has since many years been a challenge for the large scientific facilities located in Europe such as CERN or ESA, without clear long term solutions. The problem will become even more acute as new ESFRI facilities come on-stream in the near future. The advent of "big data science", however, is not limited to large facilities or to some fields of science. Big data science emerges as a new paradigm for scientific discovery that reflects the increasing value of observational, experimental and computer-generated data in virtually all domains, from physics to the humanities and social sciences.
Details

Category: Special Theme
by Costantino Thanos, Stefan Manegold and Martin Kersten
Big data' refers to data sets whose size is beyond the capabilities of the current database technology. The current data deluge is revolutionizing the way research is carried out and resulting in the emergence of a new fourth paradigm of science based on data-intensive computing. This new data-dominated science will lead to a new data-centric way of conceptualizing, organizing and carrying out research activities which could lead to an introduction of new approaches to solve problems that were previously considered extremely hard or, in some cases, impossible to solve and also lead to serendipitous discoveries.