Details

Category: Keynote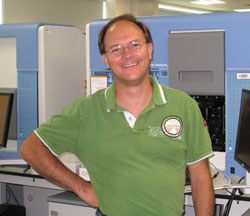 Dr. Dirk J. Evers
Director, Computational Biology
Illumina, Inc.
Computational Biology is defined as the science of understanding complex biological phenomena by the analysis of multi-sample and multi-variate quantitative data. With the advent of high-throughput measuring devices, particularly the new generation of DNA sequencers, the cost of generating data has dropped several orders of magnitude during the last 10 years. There is no sign of this trend slowing down. What will be the effect of cheap, fast, simple, robust, high-quality DNA sequencing? Computational Biology applications will become ubiquitous. It is well-known that Biotech and Pharma have been utilizing Computational Biology approaches successfully for some time, but now we see the technology and research spreading into industries such as Environment Management, Agrotech, Biofuels, Personalized Medicine and Consumer Genomics, to name just a few.
Details

Category: Special Theme
by Gunnar W. Klau and Jacques Nicolas
In the life sciences, conventional wet lab experimentation is being increasingly accompanied by mathematical and computational techniques in order to deal with the overwhelming complexity of living systems. Computational biology is an interdisciplinary field that aims to further our understanding of living systems at all scales. New technologies lead to massive amounts of data as well as to novel and challenging research questions and more and more biological processes are analyzed and modelled with the help of mathematics and can be simulated in silico.